Capacity-building workshop on community-based ICH inventorying held in Republic of Korea
Source: CRIHAP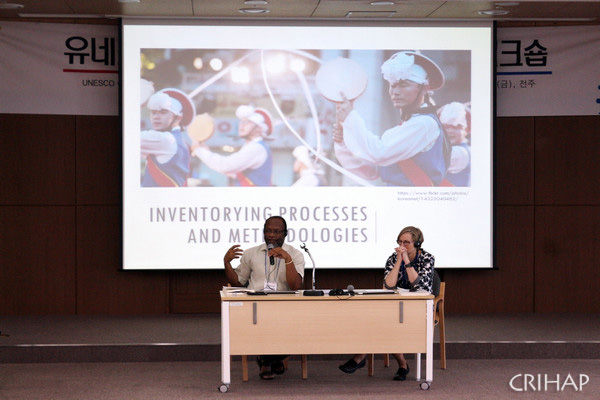 Two facilitators give lectures to trainees.
During the workshop, Wang Fuzhou delivered a lecture titled "China's practice of ICH safeguarding," to introduce ICH safeguarding experiences in China and to promote cooperation and exchange between the two countries in the field. The speech focused on the spirit of the 2003 Convention and the safeguarding practice of intangible cultural heritage in China, and introduced the concept of China's ICH safeguarding from aspects of construction of legal system on intangible cultural heritage safeguarding, regularities of ICH safeguarding, productive protection, construction of cultural ecological protection zone and discipline construction on ICH. The lecture was well-arranged, lively and interesting, which received enthusiastic response from trainees and facilitators, so he answered 12 questions raised by trainees during the 40-minute interactive session.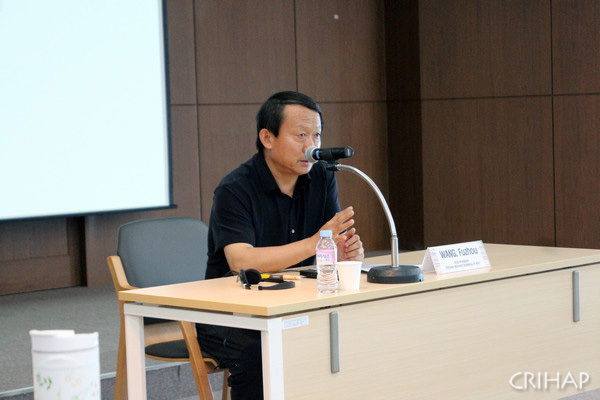 Mr. Wang Fuzhou, vice-president of the Chinese National Academy of Arts, deliveres a lecture titled "China's practice of ICH safeguarding."
Based on the fruitful results of the workshop on strengthening national capacities for effective implementation of the 2003 Convention in Republic of Korea held in July 2017, CRIHAP and ICHCAP jointly held this second training workshop in Korea, which was also the third ICH event co-organized by the two centers. In the future, the two centers will continue working together to make positive contributions to the development of ICH safeguarding in the Asia-Pacific.