Capacity-building workshop on community-based ICH inventorying held in Republic of Korea
Source: CRIHAP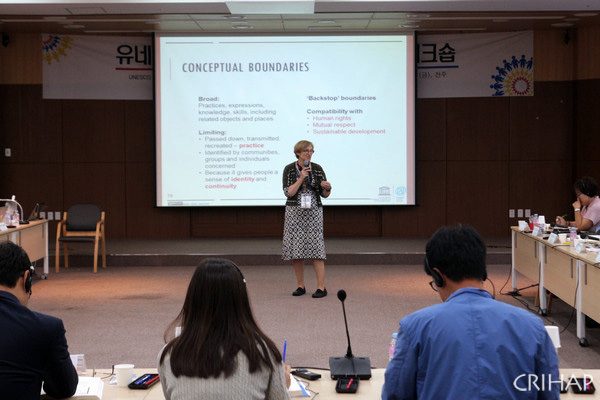 Ms. Harriet Deacon, UNESCO-accredited facilitator, gives lectures to trainees.
From July 23 to 27, a capacity-building workshop on community-based ICH inventorying took place in Jeonju, Republic of Korea, jointly held by CRIHAP and the International Information and Networking Centre for Intangible Cultural Heritage in the Asia-Pacific Region under the auspices of UNESCO (ICHCAP).
More than 30 trainees, including cultural officials, experts, practitioners and NGO representatives from ICH field in Korea, gathered for the workshop. The opening ceremony was attended by Wang Fuzhou, vice-president of the Chinese National Academy of Arts; Gye-sik Kim, director general of the Heritage Promotion Bureau of the Cultural Heritage Administration of Korea; Hyun-Jung Cho, director-general of the National Intangible Heritage Center; ICHCAP Director-General Kwon Huh; and CRIHAP Deputy Director-General Zhang Jing.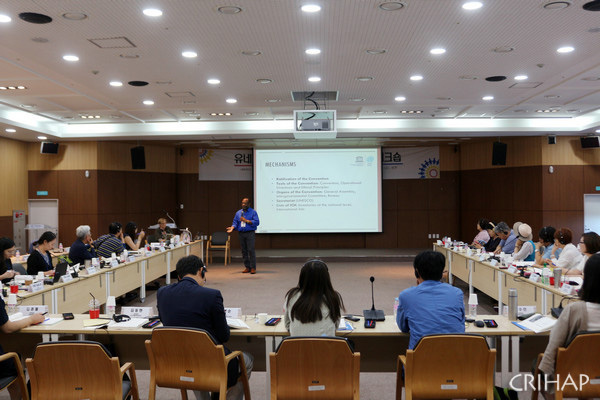 Mr. Richenel Ansano, UNESCO-accredited facilitator, gives lectures to trainees.
Two UNESCO facilitators, Harriet Deacon and Richenel Ansano were invited to deliver lectures at the workshop. Based on the theme of 2003 Convention and ICH inventorying under the framework of capacity building, the workshop covered topics on concepts, processes and methodologies of inventorying, ways to making working plans of recording and inventorying, setting budgets and other fundamental tasks. Trainees also paid a one-day field visit to the heritage base of hansan mosi and the Hansan Mosi Museum in Seocheon. With the help of two facilitators and community representatives, trainees interviewed inheritors and practitioners of the ICH project hansan mosi. By audio recording and photographs, trainees recorded the history, recent development, distinguishing features and inheritance condition of hansan mosi.