Contact Us
Address: No.1, Hui Xin Bei Li Jia, Chaoyang District, Beijing, China
Zip Code: 100029
Website: http://www.crihap.cn, http://www.crihap.net
General Office
Tel: 86-10-64966526, 86-10-64891166 ext.2427
Fax: 86-10-64969281
Training Division
Tel: 86-10-64893353, 86-10-64891166 ext.3217
Fax: 86-10-64893353
Research Division
Tel: 86-10-64896563, 86-10-64891166 ext.3214
Fax: 86-10-64896563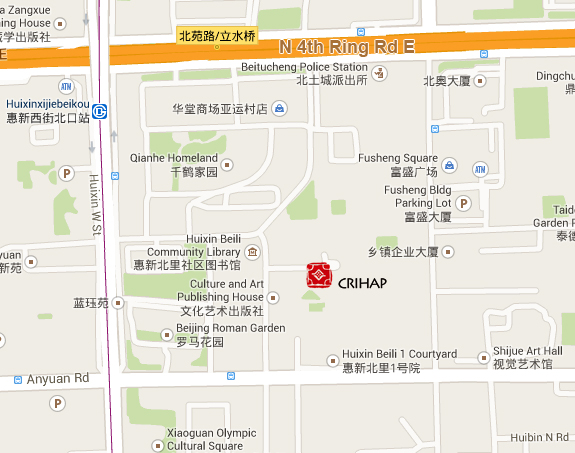 Tips
From Beijing Capital International Airport to the CRIHAP, you can take the airport bus line (Zhongguancun line) from Beijing Capital International Airport, get off at Huixindongqiao station (about 18 km), and walk south for about 300m. The bus leaves every 30 minutes, and the fare is 18 yuan per person.
Or you can choose the Airport Express (leaves every 10 minutes, 25 yuan per person) to Sanyuanqiao station, then walk 100 meters to subway line 10 (Shoudujingmao direction) to Huixinxijie Nankou station (3 stations), and then transfer to subway Line 5 (Tiantongyuan north) to the Huixinxijie Beikou station. Take Exit C (the southeast exit), then walk about 200 meters south, walk about 250 meters east, and you will arrive by walking another 70 meters south.
The overall distance is about 25.5 kilometers, which may take 1 hour and 20 minutes. If you go there by taxi, you may spend 60 yuan or so (calculated according to the shortest route).