CRIHAP hold 2nd ICH safeguarding workshop in Pakistan
Source: CRIHAP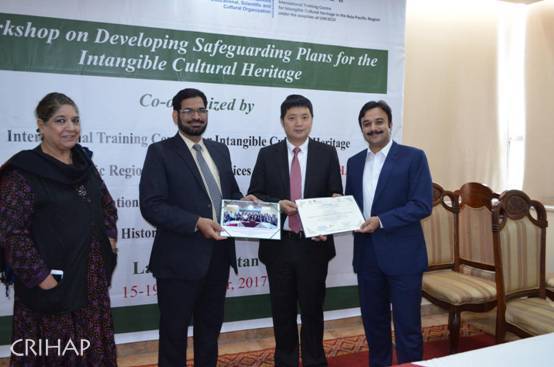 CRIHAP's Deputy Director-General Zhang Jing (second from right) issues certificates to trainees.
Zhang Jing, CRIHAP's Deputy Director-General, said that as an international training institution in the field of intangible cultural heritage in the Asia-Pacific region, CRIHAP is committed to conducting international activities to promote the 2003 Convention and capacity-building training, and making its own contribution to the promotion of cultural diversity and the building of a common destiny of human beings.
As a category 2 center in the field of ICH under the auspices of UNESCO in the Asia-Pacific Region, CRIHAP is deeply involved in the implementation of UNESCO's global strategy of ICH capacity building and promotion of the 2003 Convention, and works on providing 48 Member States in the region with capacity-building training on intangible cultural heritage.
Founded in 2012, CRIHAP has already organized 28 capacity building workshops for 905 trainees from 31 countries and regions in the Asia-Pacific region.