CRIHAP hold 2nd ICH safeguarding workshop in Pakistan
Source: CRIHAP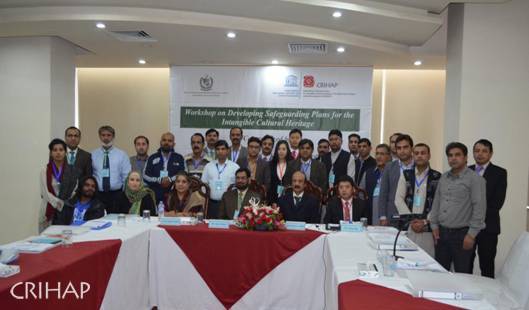 Participants take a group photo at the opening ceremony of the workshop, Nov 15, 2017.
One year after the workshop on inventorying intangible cultural heritage in Islamabad, CRIHAP held its second workshop for Pakistan from Nov 15 to Nov 19, in Lahore.
Co-organized by Pakistan's Ministry of Information, Broadcasting, National History & Literary Heritage, the workshop, titled "Workshop on Developing Safeguarding Plans for Intangible Cultural Heritage", attracted 40 trainees to participate, including cultural officials from the ministry and provincial governments, practitioners of intangible cultural heritage, and ICH transmitters in local communities.
UNESCO-accredited facilitator Ms. Sajida Vandal and her assistants, Miss Mehreen Mustafa and Mr. Ghiasuddin Pir, were invited to carry out the workshop. Necessary steps in designing safeguarding plans for intangible cultural heritage and best practices on developing safeguarding plans were shared through lectures, a field visit, group discussion and a case study.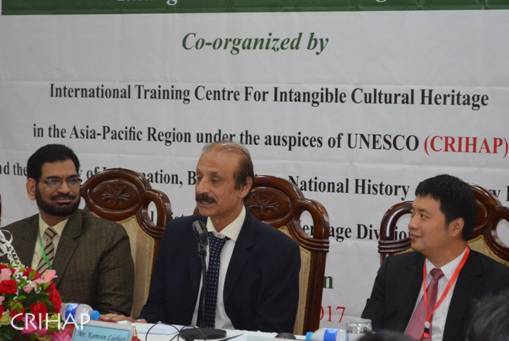 Mr. Kamran Lashar, director of the Walled City of Lahore Authority in Punjab, gives a speech at the opening session, Nov 15, 2017.
Divided into two groups, trainees visited the Walled City of Lahore to investigate subjects, such as the Basant Kite Festival and the making of traditional musical instruments. They conducted exercises on how to develop a plan and held discussions on challenges in making a plan and focal points in future work.
Mr. Kamran Lashar, director of the Walled City of Lahore Authority in Punjab, addressed the workshop's opening ceremony. "The Pakistani government is committed to restoring all the natural and cultural heritages. Many corresponding actions have already been taken, including the protection and restoration of Lahore Castle," he said. "It's a remarkable action for CRIHAP to conduct a workshop in Pakistan, which is an effective way to raise awareness and advocate safeguarding the intangible cultural heritage."