Workshop on capacity building for transmission and sustainable development of traditional craftsmanship held in Shenzhen
Source: CRIHAP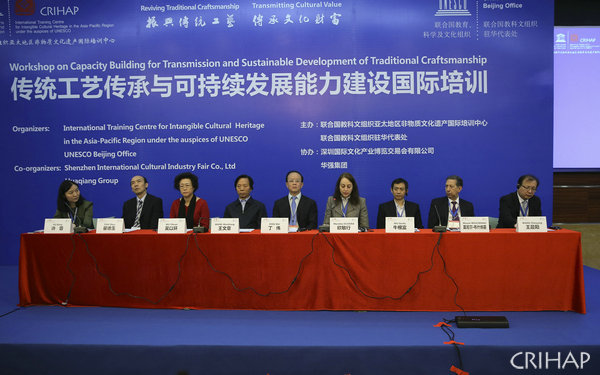 Guests present at the workshop's opening ceremony of the workshop are seated on the dais.
Marielza Oliveira expressed great gratitude to CRIHAP and UNESCO Beijing Office for jointly organizing this workshop. She highly praised CRIHAP's great efforts and remarkable contributions to UNESCO's global capacity-building strategy for safeguarding the ICH. She pointed out that culture is a key factor to promote mutual understanding and sustainable development. The ICH passed down from generation to generation facilitates cultural dialogues and recognition of communities, groups, and individuals. Currently, the existence of traditional craftsmanship is threatened by globalization, urbanization, mass production and other pressures from economy, society and environment. To safeguard traditional craftsmanship, we should pass down related knowledge and techniques, and support bearers to make a live on the craftsmanship while maintaining its artistry and creativity at the same time.
Vice president Niu Genfu briefed on the Workshop agenda and CRIHAP's achievements over the past years. He said that Chinese National Academy of Arts will provide continuous support to CRIHAP, in the hope that CRIHAP could play a bigger role in implementing the global capacity-building strategy for safeguarding the ICH. Xu Rong, director-general of CRIHAP, chaired the Workshop's opening session.
Taking forms of keynote speech, ICH safeguarding experience sharing, field visit and panel discussion, the workshop was divided into 3 sessions: Safeguarding Traditional Craftsmanship in the Spirit of the Convention for the Safeguarding of the Intangible Cultural Heritage; Transmission of Traditional Craftsmanship in the Context of Modern Society; and Capacity Building and Sustainable Development of Traditional Craftsmanship.