Workshop on capacity building for transmission and sustainable development of traditional craftsmanship held in Shenzhen
Source: CRIHAP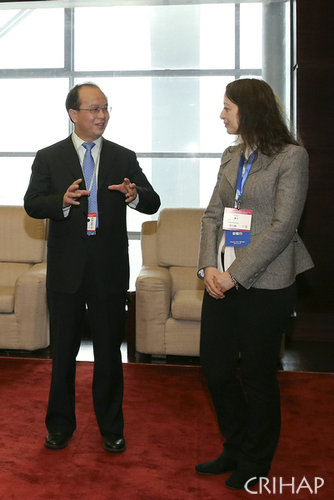 Vice-Minister Ding Wei of China's Ministry of Culture meets with the director of the UNESCO Beijing Office, Marielza Oliveira, before the workshop's opening ceremony. Ding said that the Chinese government gives high priority to cooperation with UNESCO.
The "Workshop on Capacity Building for Transmission and Sustainable Development of Traditional Craftsmanship" co-organized by International Training Centre for Intangible Cultural Heritage in the Asia-Pacific Region under the auspices of UNESCO (CRIHAP) and UNESCO Beijing Office opened in Shenzhen, Guangdong province on May 14, 2016.
The opening session was attended by DING Wei, vice minister of the Ministry of Culture of China; Marielza OLIVEIRA, director and representative of UNESCO Beijing Office; WANG Wenzhang, honorary president of Chinese National Academy of Arts (CNAA) and Chairperson of CRIHAP's Governing Board; WU Yihuan, deputy mayor of Shenzhen municipal government; Mounir BOUCHENAKI, director of Arab Regional Office for World Heritage under UNESCO, special advisor to the assistant director- general of UNESCO; Noriko AIKAWA, UNESCO facilitator for safeguarding ICH, and former director of the Unit of Intangible Cultural Heritage, UNESCO and NIU Genfu, vice president of the CNAA. Over 100 people participated in the workshop, including representatives of intangible cultural heritage (ICH) elements, representatives from UNESCO offices in the Asia-Pacific region and officials from Chinese provinces, autonomous regions and municipalities.
In the opening session, vice minister Ding Wei said that the Chinese government has always attached great importance to the safeguarding of the ICH, earnestly fulfilled the obligations under UNESCO's conventions in the field of culture. Moreover, the government has actively implemented the requirements brought up by President Xi Jinping during his visit to UNESCO Headquarters, which are "passing on and safeguarding heritages from generation to generation; advancing with times and making bold innovations". Ding said that "revitalizing traditional craftsmanship" has been incorpeated in the "Thirteenth Five Year Plan" of the country's economic and social development. He also stressed that the government will continue to enhance cooperation with UNESCO and play its due role to ensure a sustainable development of human societies.