Workshop on ICH safeguarding plan for sustainable development held in the Republic of Korea
Source: CRIHAP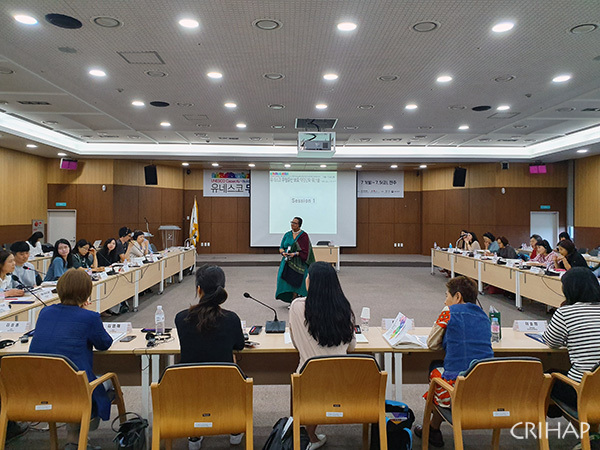 Facilitators Deirdre Prins-Solani teaches classes.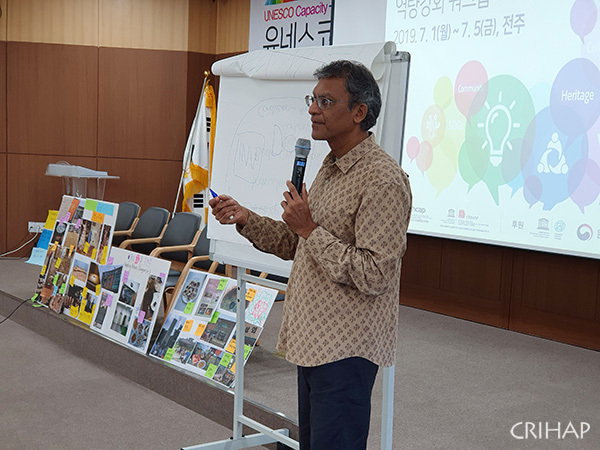 Facilitators Rahul Goswami teaches classes.
The UNESCO Capacity-Building Workshop on the ICH Safeguarding Plan for Sustainable Development was successfully held from July 1 to 5, 2019 in Jeonju, Republic of Korea, co-hosted by CRIHAP and the International Information and Networking Centre for Intangible Cultural Heritage in the Asia-Pacific Region under the auspices of UNESCO (ICHCAP).
Mr. Kim Gye-sik, Director General of the Heritage Promotion Bureau of the Cultural Heritage Administration of Korea, Ms. Kim Yeonsoo, Director General of Korea's National Intangible Heritage Center, and Mr. Keum Gi Hyung, Director General of ICHCAP, attended the opening session and delivered speeches. In his opening address, Mr. Keum Gi Hyung said that under the framework of the 2003 Convention, CRIHAP and ICHCAP have been deeply involved in the implementation of the UNESCO global capacity-building strategy for safeguarding ICH, which is witnessed by the three-year capacity-building training workshops in Republic of Korea jointly held by the two centres. Meanwhile, he expressed his thanks to CRIHAP for its support, and hoped that in the future, the two centres would continue to cooperate in depth and make mutual efforts to jointly promote the safeguarding and sustainable development of ICH in the Asia-Pacific region.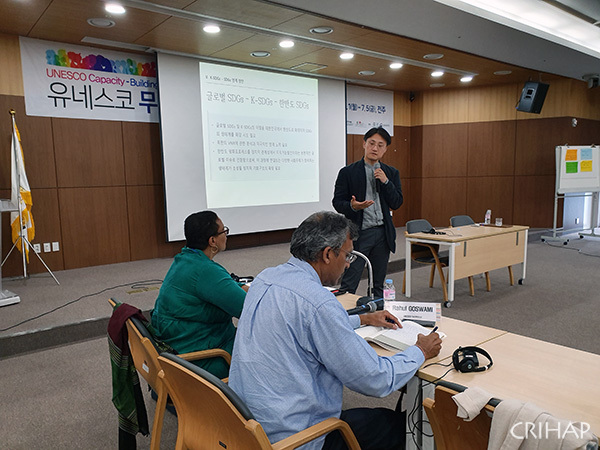 A local expert makes thematic report.
Nearly 30 trainees, including ICH cultural officials, experts, representatives of non-governmental organizations in the ICH safeguarding field, practitioners and young scholars from Korean universities, participated in the workshop. Two UNESCO-accredited facilitators, Rahul Goswami and Deirdre Prins-Solani, were invited to give lectures. Focusing on the Convention and ICH safeguarding plan for sustainable development, the facilitators explained in detail the concept and method, community participation and the sustainable development of the safeguarding plan development. In addition, they also gave lectures on intellectual property rights and gender equality. During the workshop, the facilitators and the trainees interacted actively. The former inspired the latter to think by experience sharing, role simulation, and question and answer, and deepened the trainees' understanding of the safeguarding and development of ICH. In the session, local experts, Professor Kim Taekyoon from the Graduate School of International Studies of the Seoul National University, and Mr. Lim Seung-Bum, Ph.D and Senior Curator of the National Intangible Heritage Center of Korea, made thematic reports on "Sustainable Development Goals and the implementation in the Korean context" and "Korean Legislation and Policies on ICH", respectively.