CRIHAP holds second training of trainers on developing safeguarding plan in Thailand
Source: CRIHAP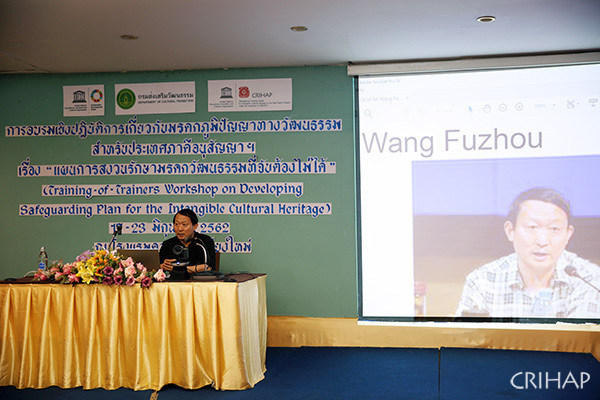 Wang Fuzhou gives a lecture during the workshop.
Mr. Wang Fuzhou gave a lecture entitled "China's Practice of the Convention on Safeguarding of the Intangible Cultural Heritage 2003 - Sharing Experiences in the Safeguarding of China's Intangible Cultural Heritages" during the workshop. Based on the spirit of the Convention and the safeguarding practice of China' ICH, he elaborated the form, regular pattern of safeguarding, theoretical understanding, system and discipline construction of ICH from three aspects of the attributes of cultural heritage, cultural characteristics and spirituality.
The training workshop is the second of the "Three-Year Training Workshops on Capacity-Building of Intangible Cultural Heritage" for Thailand. Next year, CRIHAP will continue to provide professional ICH safeguarding capacity-building training to Thailand in accordance with its actual needs.
Since its establishment in 2012 as a UNESCO Category 2 center, CRIHAP has been deeply involved in implementing the UNESCO global capacity-building strategy for the safeguarding of intangible cultural heritage, and is committed to providing capacity-building training services in ICH to 48 member states in the region.
This is the 38th training workshop on capacity building of intangible cultural heritage held by CRIHAP. Up to now, training workshops organized by the centre have covered 34 countries and regions in the Asia-Pacific, with 1,194 direct beneficiaries.
(Original story provided by Liu Guozheng, edited by Shen Ce)
Facilitators Alexandra Denes and Linina Phuttitarn, and Ms. Ge Yuqing, Director of Training Division of CRIHAP, deliver certificate to participant.