CRIHAP holds second training of trainers on developing safeguarding plan in Thailand
Source: CRIHAP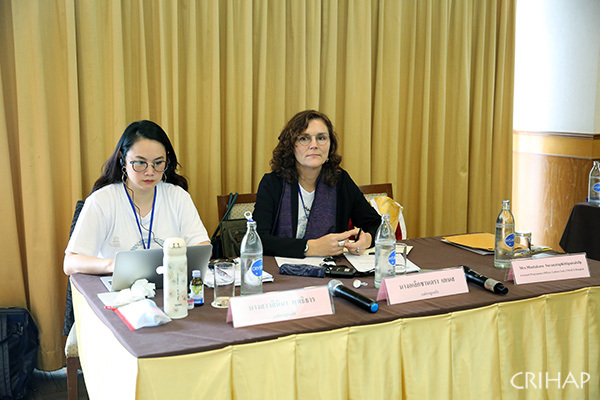 Facilitators Alexandra Denes and Linina Phuttitarn teach classes.
The Department of Cultural Promotion of Thailand's Ministry of Culture, in collaboration with UNESCO Bangkok Office, and with support from CRIHAP, organized the Training of National Trainers on Developing Safeguarding Plan for Intangible Cultural Heritage, from June 17 to 23, 2019, in Chiang Mai province, Thailand.
Mr. Wang Fuzhou, Vice-President of the Chinese National Academy of Arts and Deputy Director-General of the China National Centre for Safeguarding Intangible Cultural Heritage; Ms. Duong BichHanh, Culture Director of the UNESCO Bangkok Office; Ms. Archaraporn Pongchavee, Deputy Director-General of the Department of Cultural Promotion of Thailand's Ministry of Culture; and Ms. Ge Yuqing, Director of CRIHAP's Training Department, attended the opening session. A total of 44 trainees, including cultural officials from Thailand's Ministry of Culture, provinces, and non-governmental organizations, experts from Chiang Mai University, representatives of community ICH projects and ICH practitioners participated in the training workshop.
In their opening remarks, representatives of the UNESCO Bangkok Office and the Department of Cultural Promotion highly appreciated CRIHAP's continued capacity-building training for the safeguarding of intangible cultural heritage in Thailand, and expressed a willingness to promote the development of ICH in Thailand hand in hand with other two parties.
Ms. Alexandra Denes and Ms. Linina Phuttitarn, UNESCO-accredited facilitators, were invited to give lectures. The training workshop was conducted through classroom teaching, group discussion, case study and field visit. It covered 10 sub-topics, such as the Convention and latest practice, concepts, steps, and methods of Safeguarding Plan Development. Combining the content of the course and making use of the rich ICH resources of the ancient urban areas and the surrounding communities of Chiang Mai, the training workshop selected "Silverware Making", "Hmong Batik (Miao Wax Dyeing)", "Karen Rotation Farming" and "Salak Yom" as field visit projects. After being divided into four groups, the trainees conducted field investigation of the projects, practiced developing safeguarding plans, and discussed the difficulties in developing safeguarding plans and the key points for development of safeguarding plans in the future. Under the guidance of two facilitators, the trainees recorded in detail the history, development status, technical characteristics and inheritance of four projects by means of recording, photographing and interviewing.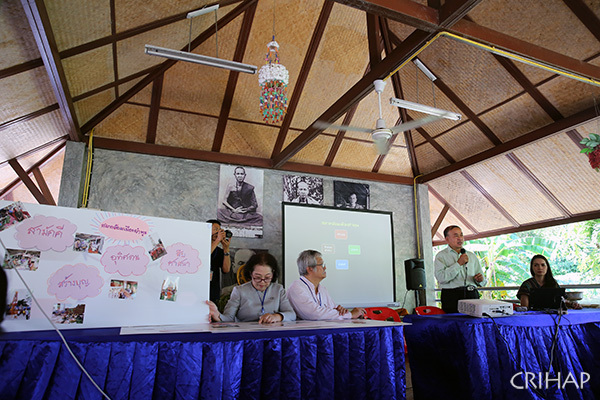 Participants present the results of group work.