CRIHAP holds the second TOT workshop for the Intangible Cultural Heritage Facilitators in Kazakhstan
Source: CRIHAP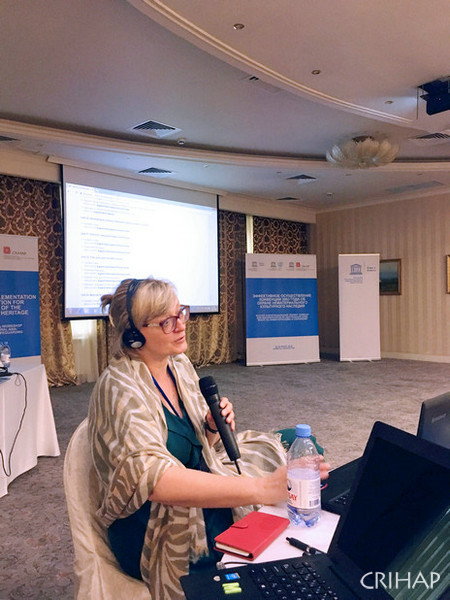 Ms. Helena Drobna, representative of the ICH Secretariat, introduces latest developments of the 2003 Convention.
The facilitators also explained some issues on which UNESCO focused, such as international assistance application, networking, ICH and education, and gender and sustainable development. The trainees also actively shared their experience and challenges in developing ICH training programs in their own countries. Ms. Helena Drobna, representative of the ICH Secretariat introduced to the trainees the Overall Results Framework and Major Priorities identified by the seventh session of the General Assembly of the States Parties to the Convention for the Safeguarding of the Intangible Cultural Heritage held in June this year.
The training is the second workshop for ICH facilitators in the Central Asian region after the first held in June, 2017 in Bishkek (Kyrgyzstan). Ms. Krista Pikkat, Director of the UNESCO Almaty Cluster Office thanked CRIHAP for its human, intellectual and financial support for the training. Mr. Liang Bin, Director-General of the CRIHAP, hoped that the workshop could train a number of trainers in Central Asia who can further understand the spirit of the 2003 Convention and teach courses in the region under the framework of the convention, to promote the development of ICH in the region.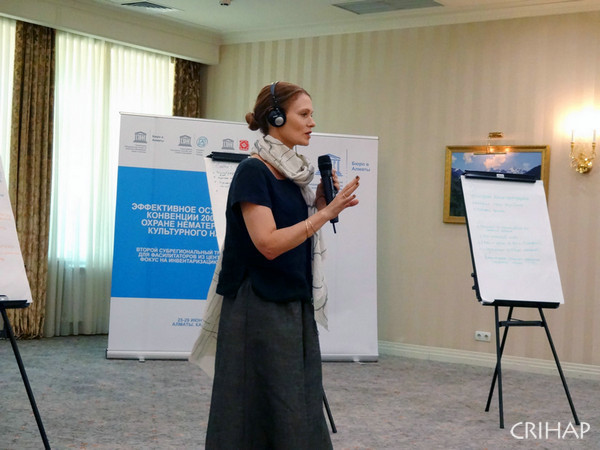 Ms. Suzanne Ogge, UNESCO-accredited facilitator, gives lectures to trainees.
As a UNESCO category 2 center, CRIHAP has been deeply involved in the implementation of UNESCO's global capacity-building strategy of ICH safeguarding since its establishment in 2012. It has been actively promoting and popularizing the 2003 Convention, and remains committed to providing capacity building training services for the 48 member states in the Asia-Pacific region in the field of ICH safeguarding.
So far, CRIHAP has conducted 32 international training activities, with 32 beneficiary countries and 1,027 direct beneficiaries.
(Original story provided by Tang Haijiao, edited by Shen Ce)