CRIHAP holds the second TOT workshop for the Intangible Cultural Heritage Facilitators in Kazakhstan
Source: CRIHAP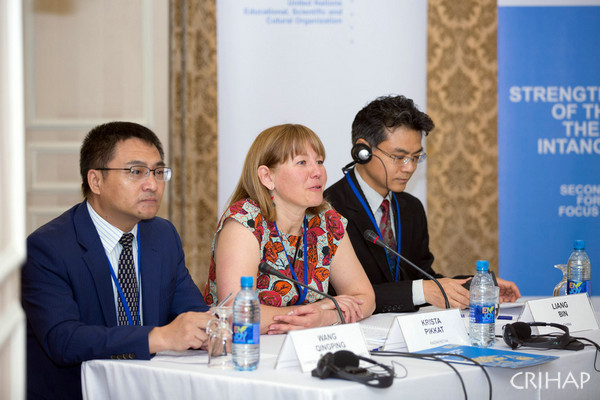 Ms. Krista Pikkat, Director of the UNESCO Almaty Cluster Office, gives opening remarks.
The Second Training of Trainers Workshop for the Intangible Cultural Heritage Facilitators from Central Asia was held from June 25 to 29 in Almaty, Kazakhstan. It was co-organized by CRIHAP and UNESCO Almaty Cluster Office of Kazakhstan, Kyrgyzstan, Tajikistan and Uzbekistan. Sixteen trainees from Kazakhstan, Kyrgyzstan, Uzbekistan and Tajikistan participated.
The workshop aimed to train a group of trainers who are familiar with the contents and teaching methods of UNESCO's capacity-building courses, strengthen the ability of Central Asian countries to implement the 2003 Convention, review relevant needs for further capacity-building in Central Asia, and explore the possibility of networking for trainers in the whole region.
Mr. Liang Bin, Director-General of CRIHAP, gives opening remarks.
During the five-day workshop, Ms. Suzanne Ogge, UNESCO-accredited facilitator, and Ms. Aijarkyn Kojobekova and Ms. Saniya Bazheneyeva, two assistant facilitators from Central Asia, focused on inventorying and safeguarding plan development under the framework of the 2003 Convention. By the way of lectures, role-playing, group discussion and other forms of teaching, the facilitators explained the role of trainers under the UNESCO global capacity building strategy for the safeguarding of the intangible cultural heritage, the effective setting of training courses and basic techniques and skills that trainers need to master.