CRIHAP holds training of trainers on inventorying intangible cultural heritage in Thailand
Source: CRIHAP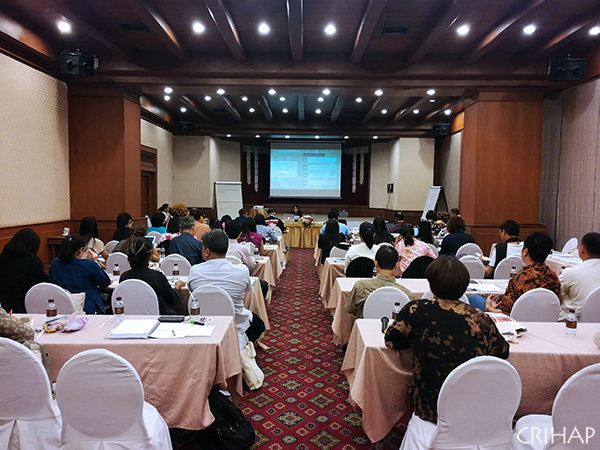 The Training-of-Trainers on Community-based Inventorying of Intangible Cultural Heritage opens on May 10 in Chiangmai, Thailand.
A workshop for trainers on community-based inventorying of intangible cultural heritage was held from May 10 to 19 in Chiangmai, Thailand. It was the first capacity-building training event received by Thailand under the framework of the Convention for the Safeguarding of the Intangible Cultural Heritage since the country ratified the Convention in 2016, and was also the first time CRIHAP organized a training workshop for Thailand.
The training was co-organized by the CRIHAP, UNESCO Office in Bangkok and Department of Cultural Promotion of Thailand's Ministry of Culture. A total of 55 trainees attended the workshop, including officials from Thailand's Ministry of Culture and provincial cultural departments, representatives from nongovernmental organizations, experts from Chiang Mai University, community-based intangible cultural heritage representative inheritors, intangible cultural heritage practitioners and observers from Malaysia, the Philippines, Vietnam and Pakistan.
UNESCO-accredited facilitators Ms. Paritta C. Koanantakool and Ms. Alexandra Denes were invited to run the training. The training was conducted through basic capacity-building courses on inventorying and six pilot fieldwork exercises. It covered 17 sessions, including basic concepts and latest practices of the Convention, the concept of inventorying, and its specific tools, methods and techniques. The workshop used various training methods, such as lectures, classroom interactions, group discussions, group work and case studies. Through an in-depth investigation into six intangible cultural heritage projects -- sapao traditions, silversmiths, hmong batik, salak yom traditions and karen rotational farming -- the trainees practiced the community-based inventorying skills they had learned in fieldwork exercises. Observers from four countries also shared their practical experience in safeguarding intangible cultural heritage, and had in-depth exchanges and discussions with trainees.