CRIHAP holds capacity building workshop on intangible cultural heritage in Vanuatu
Source: CRIHAP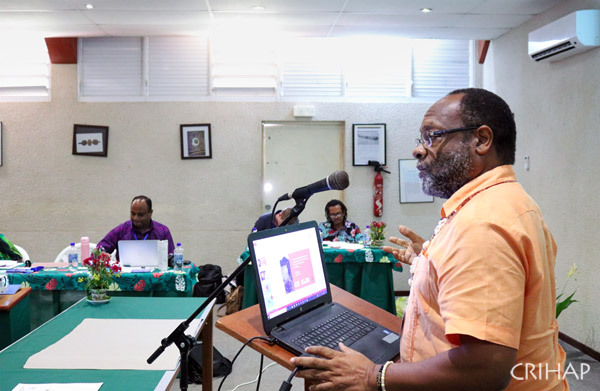 UNESCO Facilitator Richenel Ansano gives lectures.
The CRIHAP and UNESCO Office in Apia working groups also participated in the discussion with the trainees, and shared unique interpretations of the Convention and experiences of ICH safeguarding in Fiji, China and other Pacific countries.
The workshop provided a platform for trainees to exchange information and views on ICH safeguarding. Taking the diversity of participants into account, officials of the Vanuatu Cultural Centre, researchers, local chiefs, youth, and female representatives were invited to attend the workshop. It also gave the chance for representatives of all parties to speak at the workshop. Mr. Richard Shing, Director of the Vanuatu Cultural Centre, shared the basic conditions of ICH safeguarding in Vanuatu. Ms Brigitte Laboukly, Vanuatu cultural expert introduced the assessment of post-disaster needs conducted by Vanuatu after Cyclone Pam in 2015. Representatives of local chiefs, women, and youth also described their roles in ICH safeguarding work in Vanuatu.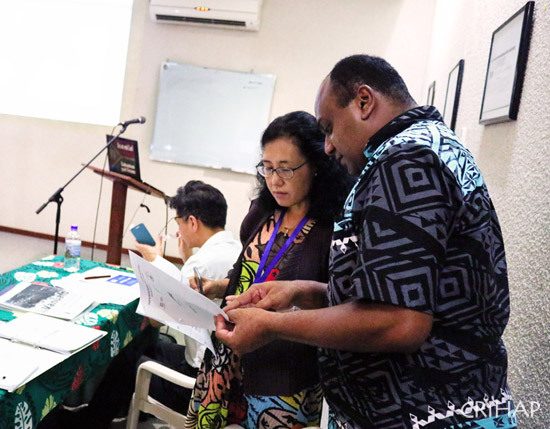 Facilitator Sipiriano Nemani discusses cases with Ms Akatsuki Takahashi, Programme Specialist for Culture of UNESCO Office in Apia.
The trainees actively expressed their views based on their specific work and proposed many constructive ideas on ICH safeguarding from different perspectives. The atmosphere in the classroom was very active.