CRIHAP's Workshop on Strengthening National Capacities for Effective Implementation of the 2003 Convention in Republic of Korea held in Korea
Source: CRIHAP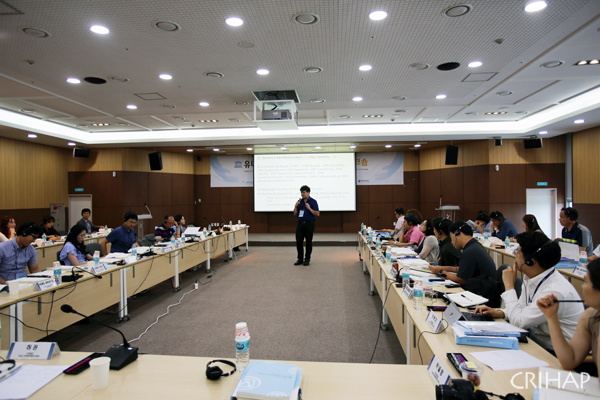 The training classroom


The Workshop on Strengthening National Capacities for Effective Implementation of the 2003 Convention in Republic of Korea was held in Jeonju city of Korea from July 10 to 13, 2017.
The training course was jointly organized by the International Training Centre for Intangible Cultural Heritage in the Asia-Pacific under the auspices of UNESCO (CRIHAP), and International Information and Networking Centre for Intangible Cultural Heritage in the Asia-Pacific under the auspices of UNESCO (ICHCAP).
Mr. Park Yung Keun,Vice Administrator of Cultural Heritage Administration of Korea ; Ms. Himalchuli Gurung, Programme Specialist for Culture of the UNESCO Beijing Office; Mr. Zhang Jing, Deputy Director-General of the International Training Centre for Intangible Cultural Heritage in the Asia-Pacific Region under the auspices of UNESCO (CRIHAP) attended the workshop's opening ceremony and delivered speeches.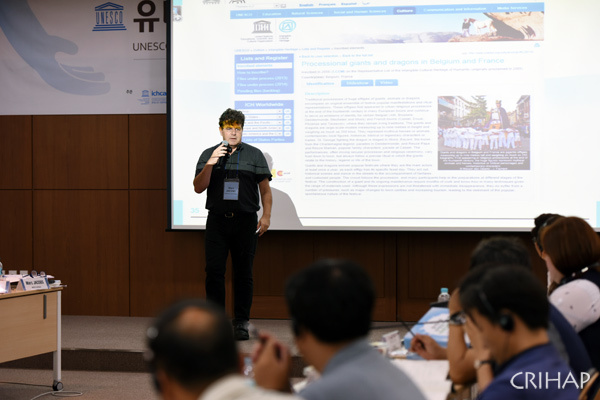 Dr. Marc Jacobs from University of Brussels in Belgium delivers a lecture to trainees.
The course, held under the framework of the capacity-building strategy on the 2003 Convention, was aimed at strengthening Korea's capacity of effective implementation of the convention on the national level, promoting the spirit and value of the convention and enhancing Korea's capacity for intangible cultural heritage safeguarding.
More than 30 participants, including officials from the central and local government as well as representatives of non-governmental organizations from the field of intangible cultural heritage safeguarding in Korea, took part in the workshop.
UNESCO-accredited facilitators, Dr. Marc Jacobs from the Vrije Universiteit Brussel and Dr. Sang-mee Bak from the Hankuk University of Foreign Studies were invited to lecture at the training course. The four-day program was themed on the implementation of the 2003 Convention. Lectures on 16 sub-topics were delivered to trainees, and the lessons were carried out in the form of group discussions and interactions between facilitators and trainees.
Curriculum content covered basic concepts of the 2003 Convention, relevant knowledge of Convention Concerning the Protection of the World Cultural and Natural Heritage, and ICH list nomination, as well as how to promote the sustainable development of the safeguarding of intangible cultural heritage and how to enhance the community participation.
Professor Marc Jacobs also carried out elaboration, interpretation and analysis on the Ethical Principles for Safeguarding Intangible Cultural Heritage approved by UNESCO in 2015. Taking Korea's Nongak community as example, he lectured on the core values and ethical dimensions to ensure the fundamental standpoint of communities' central role on ICH safeguarding in accordance with the Ethical Principles.
Facilitator Sang-mee Bak also carried out in-depth training on the issues concerning the ICH list nomination, policy changes on safeguarding intangible cultural heritage, and revision of laws and regulations on intangible cultural heritage in Korea.