An Online Course on Bringing Living Heritage to the Classroom in Asia-Pacific
Source: ICHCAP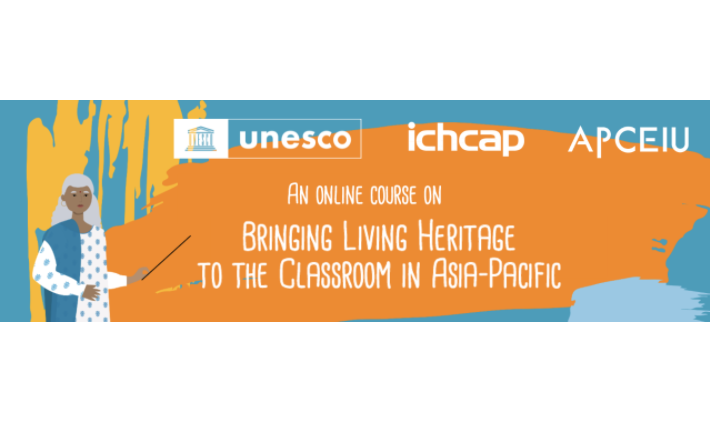 ICHCAP, UNESCO, and Category 2 Center APCEIU collaborated and developed an online course on "Bringing Living Heritage to the Classroom in Asia-Pacific". We invite you to join the online course that will launch on 22 April 2022 (14:00-15:30 UCT+7).
This course provides key resources and guidance for teachers and people interested in education and culture on why and how to integrate living heritage in their lessons and extracurricular activities in the school. Such lessons and activities aim to make learning more contextualized, relevant and engaging for students while they help raise awareness about the importance of safeguarding living heritage.
During the course, participants will take a step-by-step approach to develop a lesson plan or school activity connected to a living heritage element of their choice. Detailed information on modules is listed below.
Module 0. Welcome to Bringing Living Heritage to the Classroom in Asia-Pacific
Module 1. What is Bringing Living Heritage to the Classroom?
Module 2. Understand Your Context (Step 1)
Module 3. Connect a School Topic with Living Heritage (Step 2 and 3)
Module 4. Design your lesson plan (Step 4~6)
Module 5. Bringing Living Heritage to the Classroom: Strategies for Sustainability
Participants are also invited to join the first instructor-led cohort which includes an orientation and 5 weekly live tutorial sessions (22 April – 3 June 2022). The tutorial sessions will provide you with opportunities to exchange information and ideas with instructors and fellow learners, and receive direct feedback from instructors on your newly developed lesson plan and activity.
You will receive a certificate upon successful completion of the course.
Don't miss this chance to play a role in integrating living heritage in school! Apply to join the course before 21 April 2022! Information about the launch and tutorial sessions will be sent directly in due course.
For joining the launch only, please sign up here.