ICH safeguarding workshop for the Philippines concludes in success
Source: CRIHAP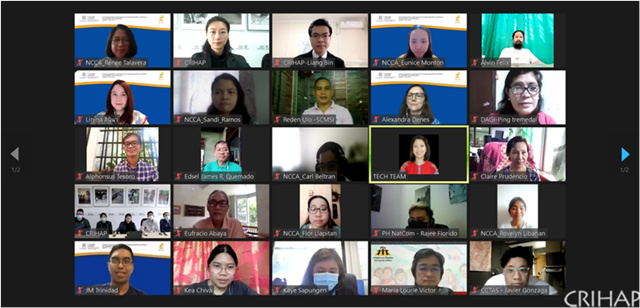 An online capacity-building workshop for the training of trainers on developing safeguarding plans of intangible cultural heritage for the Philippines was concluded on April 29. The event was co-organized by the International Training Center for Intangible Cultural Heritage in the Asia-Pacific Region under the auspices of UNESCO (CRIHAP) and the National Commission for Culture and Arts of the Philippines (NCCA). It marked the completion of the three-year capacity-building workshop series on ICH safeguarding which CRIHAP designed specifically for the country.
CRIHAP's Director-General Liang Bin gave a review of the three workshop series at the closing session. Liang Bin said the training has provided a learning and exchange platform for trainees in ICH safeguarding capacity-building, ICH safeguarding for sustainable development and ICH safeguarding plan and policy development, enabling personnel involved in ICH safeguarding in the Philippines to gain systemic knowledge. Liang Bin also expressed his thanks to UNESCO-accredited facilitators Alexandra Denes and Linina Phuttitarn, institutions from the Philippines and participants for their full support.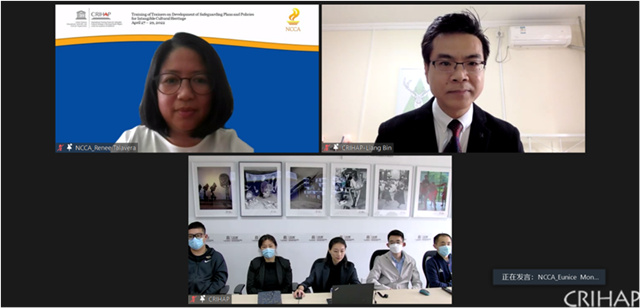 In face of the grave challenges posed by the global pandemic, CRIHAP has striven to overcome difficulties, explore varied training modes and carried out targeted and effective training for countries in the Asia-Pacific region, including the Philippines, Liang Bin said, adding CRIHAP is expecting more cooperation and will continue to help foster ICH safeguarding professionals for the country.
"The intangible cultural heritages of the Philippines are of great value for local tourism, economy and even the whole nation's sustainable developmen. The three-year training program has turned out to be a fruitful cooperation between CRIHAP and NCCA which enormously benefited the participants who are expected to fully combine theories with practices and actively apply their new knowledge and experiences to ICH safeguarding plan and policy development for the Philippines." NCCA's Executive Director Oscar G. Casaysay said in a written speech at the closing session.