UNESCO Beijing Office Director visits CRIHAP
Source: CRIHAP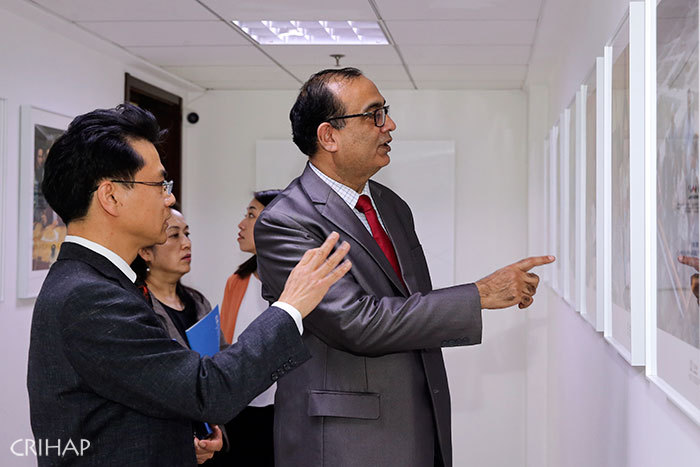 Shahbaz Khan (right), Director of UNESCO Beijing Office, pays a visit to CRIHAP on July 5, 2021. [Photo by Liu Xiaohui/Art and Document Gallery, Chinese National Academy of Arts]
Director of UNESCO Beijing Office Dr. Shahbaz Khan paid a visit to the International Training Centre for Intangible Cultural Heritage in the Asia-Pacific Region under the auspices of UNESCO (CRIHAP) and met with all CRIHAP staff members at a symposium on July 5, 2021.
At the symposium, Liang Bin, Director-General of CRIHAP, gave an introduction to the centre's structure, function, focus and plans.
Liang said that CRIHAP has successfully executed and delivered the first round of the agreement between the Chinese government and UNESCO to establish the centre in Beijing and continued to function following the renewal of the agreement four years ago.
CRIHAP has been committed to facilitating UNESCO to strengthen the intangible cultural heritage (ICH) safeguarding capacity of the countries in the Asia-Pacific region.
Over the past two years, the number of training workshops carried out by CRIHAP in a year has gone up from single digit to two digits. In response to ever-changing circumstances, CRIHAP has conducted country-specific training workshops to meet their demands.
Shahbaz Khan (right), Director of UNESCO Beijing Office, talks with CRIHAP staff members at a symposium on July 5, 2021. [Photo by Liu Xiaohui/Art and Document Gallery, Chinese National Academy of Arts]
The themes of the workshops vary widely, too. Besides routine themes under the framework of the Convention for the Safeguarding of the Intangible Cultural Heritage, there are also newly-developed themes such as ICH and Education, ICH Safeguarding in Time of Emergency, and ICH and Youths.
Up to date, CRIHAP has organized intangible cultural heritage capacity-building workshops for trainees from 40 countries and regions from the Asia-Pacific, with 1,827 direct beneficiaries.