Opening session of the first workshop of the Three-Year Training Programme held online
Source: CRIHAP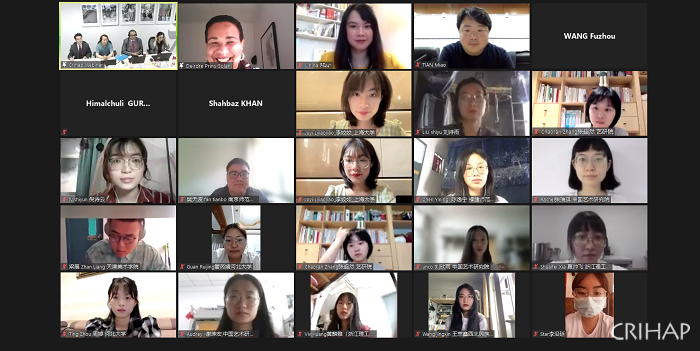 Group photo of participants.
The training lasts for two months, and is conducted in the way of online courses and offline shooting practice. During the online lecture from July 5 to 7, Ms. Himalchuli Gurung, Programme Specialist for Culture of UNESCO Beijing Office, elaborated the indispensable role of ICH and young people in the sustainable development of culture with the theme, "Living Heritage Promotes Sustainable Development".
By making full use of the multimedia online platform, UNESCO facilitators Ms. Deirdre Prins-Solani and Ms. Linina Phuttitarn mobilized the trainees' participation and communication in the lectures, and guided them to fully understand the relevant knowledge of the Convention through case analysis, group discussion and group work. As a Chinese expert, Mr. Tian Miao, Deputy Research Librarian of the National Library of China, gave a lecture to the trainees. He sorted out the prospect and general situation of the safeguarding of China's ICH for them, and explained the methods of oral history interviewing and field work of Image Anthropology with vivid and rich practical cases. The trainees spoke enthusiastically and expressed their gratitude for the opportunities provided by this workshop at the lectures.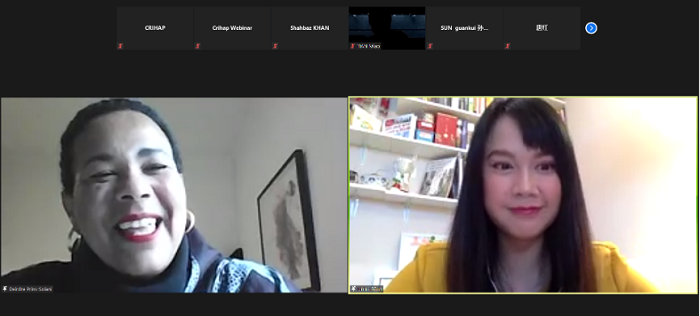 UNESCO facilitators Ms. Deirdre Prins-Solani and Ms. Linina Phuttitarn give lectures.
Next, facilitators and Chinese experts will guide the trainees to carry out a five-week offline video shooting practice of ICH. The trainees will search for, select and record ICH projects, events and people in their eyes and lives according to the contents of the previous online lectures, to further deepen their understanding of ICH, improve their awareness of ICH safeguarding, and drive the enthusiasm of the whole society to participate in ICH safeguarding.
In recent years, the United Nations has paid close attention to the training and development of youth. UNESCO, especially under the influence of COVID-19, focuses on how to attract young people to understand ICH, enhance their awareness of ICH safeguarding and guide them to participate in it.