Online Workshop on Safeguarding Intangible Heritage for Sustainable Development
Source: CRIHAP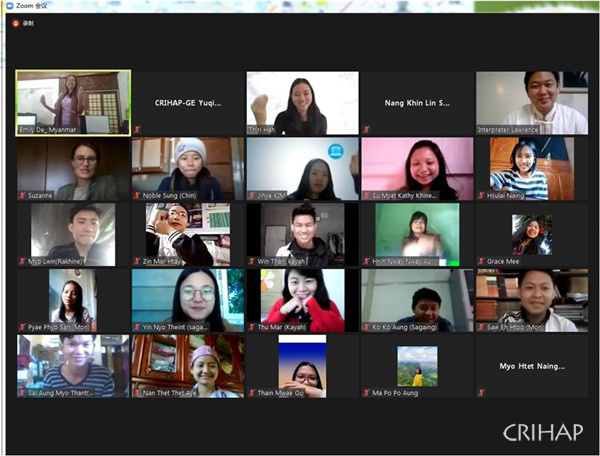 Trainees attending the online Workshop for Myanmar's Youth Leaders on Safeguarding Intangible Cultural Heritage for Sustainability pose for a virtual group photo.
An online workshop held Dec 21 to 23 on safeguarding intangible heritage for sustainable development for Myanmar's community youth leaders was co-organized by the International Training Center for Intangible Cultural Heritage in the Asia-Pacific Region under the auspices of UNESCO (CRIHAP), the UNESCO Bangkok Office, and the Culture and Religious Affairs Ministry of Myanmar.
The three-day workshop drew 40 youth leaders from Myanmar's seven ethnic groups and two regions who participated as trainees.
Those invited to give lectures included UNESCO-accredited facilitators Suzanne Ogge and Rahul Goswami; Montakarn S. Kittipaisalsilp, a cultural program officer at the UNESCO Bangkok Office; and Ma Emily De, a national education program officer for UNESCO Myanmar.
Before their lectures, six ICH experts from Thailand were also invited to brief the trainees on basic knowledge related to the 2003 Convention for the Safeguarding of the Intangible Cultural Heritage as well as UNESCO's work rules and mechanisms.
The workshop is a key component of UNESCO's Youth Forum Myanmar on Community Heritage for Sustainability, organizers said. With training at its core, the program took an online plus offline approach and was carried out in three phases for Myanmar's youth leaders.
In the first phase which served as a warmup, the six ICH experts gave the trainees a brief introduction of the role UNESCO has been playing in safeguarding cultural and natural heritage and pushing forward cultural expression and creativity; explained the relationship between cultural heritage, world heritage and intangible cultural heritage; and talked about such topics as community cooperation, community-based inventorying of intangible cultural heritage, as well as ethical principles of safeguarding intangible cultural heritage.
In the ensuing phases, the two UNESCO-accredited facilitators focused on the three topics of inventorying of intangible cultural heritage, sustainable development, and community project development and planning.
They guided the trainees to gain a deeper understanding of knowledge about the Convention and to have a grasp of related ICH safeguarding skills, and prompted these young people to think about how to raise public awareness of ICH safeguarding in Myanmar, how to increase well-being for local communities in the process of ICH safeguarding, and how to keep local society moving forward in a sustainable mode.
Upon completion of the workshop, the trainees worked in groups to develop ICH safeguarding plans before carrying out their field research that will last one to two months.
It is the first time that Myanmar's community youth leaders have received training on the Convention. It is also the first of the three-year capacity-building workshops which CRIHAP has organized for Myanmar.
To enliven the atmosphere in the online classroom, UNESCO-accredited facilitator Rahul Goswami used a large number of real-world cases to help broaden trainees' horizons and arouse their interest in learning.
Participants agreed that the lectures delivered by UNESCO-accredited facilitators helped them gain in-depth knowledge about the Convention. The training also laid a solid foundation for upcoming field trips.
The ICH capacity-building workshop that CRIHAP has offered is crucial for ICH safeguarding in Myanmar and serves well to nurture younger generations of ICH safeguarding personnel in the country, said Min Jeong Kim, head of the UNESCO Myanmar Office.
Up to now, CRIHAP has organized a total of 52 intangible cultural heritage capacity-building workshops, covering 40 countries and regions, with 1,697 direct beneficiaries.