CRIHAP's 7th session of the Advisory Committee held in Beijing
Source: CRIHAP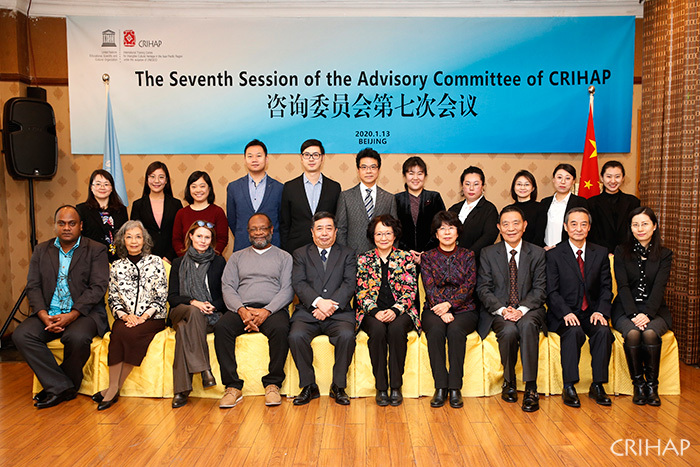 Participants pose for a group photo during the meeting
The International Training Centre for Intangible Cultural Heritage in the Asia-Pacific Region under the auspices of UNESCO (CRIHAP) held its seventh session of the Advisory Committee at the Beijing Foreign Experts Building on Jan 13, 2020. The meeting was chaired by Zhang Aiping, chairman of the Advisory Committee, and 10 committee members attended the meeting.
At the meeting, committee members expressed their appreciation and affirmation of the work carried out by the CRIHAP, and had a series of discussions centering on "training theme", "training effect", "field study", "establishment of a long-term cooperative relationship with facilitators", "self-capacity building" and other topics proposed by the centre's secretariat.
The committee members believe that the CRIHAP should pay close attention to the new trends and new concerns of intangible cultural heritage, develop relevant training materials, and adopt a variety of training modes according to different training themes. For example, the centre could flexibly adjust the proportion of the Convention for the Safeguarding of the Intangible Cultural Heritage (Convention) and practical teaching content, strengthen the relevance of training courses and field teaching, increase practical training programs for ICH transmitters, enhance capacity building training for institutions, and establish an evaluation workflow consisting of pre-evaluation, training and re-evaluation. In addition, it is necessary to make good use of the rich experience of local experts in the place where the training is held, and to select training topics and accumulate cases in light of the practical situation in the beneficiary country to make the training more targeted.
The committee members also gave valuable advice on setting up more convenient communication channels with facilitators, maintaining long-term cooperative relations, the application of new media, increasing the centre's publicity and strengthening cooperation with other Category 2 centres. Other valuable advice was offered on carrying out center personnel exchanges and calling on government departments to expand capital investment to the CRIHAP, and also increase staff numbers to ensure that the center can better provide training services for countries in the Asia-Pacific region. These suggestions provided references for the center's future work.