The 9th session of the CRIHAP Governing Board kicks off in Beijing
Source: CRIHAP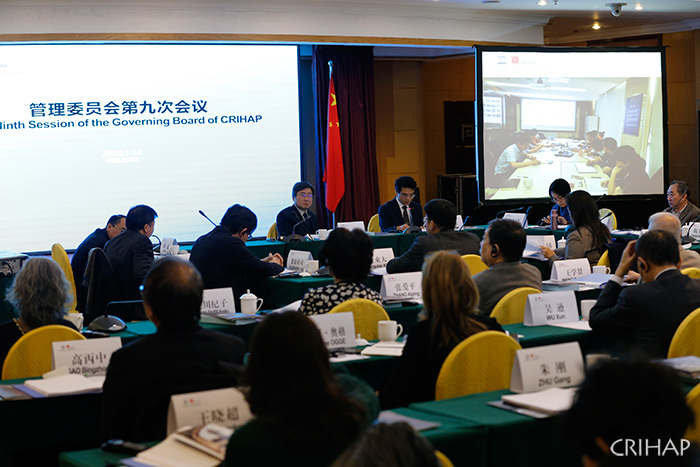 Mr. Liang Bin, Director-General of CRIHAP, made CRIHAP's 2019 annual work report on behalf of the Secretariat
The International Training Centre for Intangible Cultural Heritage in the Asia-Pacific Region under the auspices of UNESCO (CRIHAP) held the ninth session of the Governing Board in Beijing on Jan 14.
China's Deputy Minister of Culture and Tourism Zhang Xu chaired the meeting. About 60 members and officers from the CRIHAP Governing Board, the Center Advisory Committee, the Ministry of Culture and Tourism of China, the National Commission of China for UNESCO, the UNESCO Representative Office in China, the UNESCO International Research Center for Intangible Cultural Heritage and International Information, and other organizations attended the meeting. Those at the meeting reviewed and approved CRIHAP's 2019 annual work report and 2020 annual work plan.
In 2019, CRIHAP held 11 intangible cultural heritage capacity building training courses in Uzbekistan, Fiji, Thailand, South Korea, China, Vietnam, Bangladesh, the Philippines, and Mongolia.
The Uzbekistan training course is the third training of trainers workshop for the ICH facilitators (Russian) for the region based on the previous two Central Asian trainings of trainers workshop for the ICH facilitators held in Bishkek, Kyrgyzstan and Almaty, Kazakhstan, in 2017 and 2018. The training is the only training of trainers workshop for the ICH facilitators scheduled by UNESCO headquarters in Asia-Pacific in 2019.
The Fiji training course aims to teach cultural sector officials in Small Island States (SIDs) government knowledge of the Convention. The training was positively acknowledged and received many valuable suggestions. The outcome of the training "Development Plan for the Safeguarding of Intangible Cultural Heritage in the Pacific" is an important reference for the UNESCO Office in Apia to formulate plans for the safeguarding of intangible cultural heritage in the region over the next five years.
The Thai training course is the second part of the "Three-Year Training Workshops on Capacity-Building of Intangible Cultural Heritage" developed for Thailand. To a large degree, the training eases the lack of capacity building for ICH safeguarding in Thailand and unfamiliarity with the international cooperation mechanism under the framework of the Convention.