Call for Applications: Summer Course for Mongolian Literature, Culture, and Tradition
Source: ICHCAP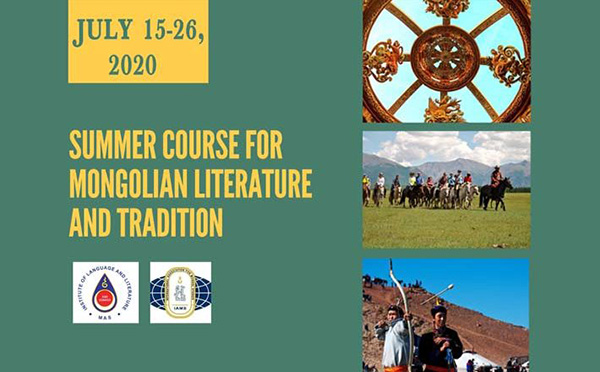 Call for applications for the Summer Course Ⓒ ILL
The Institute of Language and Literature of the Mongolian Academy of Sciences (ILL)1., in collaboration with International Association for Mongol Studies(IAMS), announces a call for applications for the Summer Course for Mongolian Folklore, Literature, Culture, and Tradition. The two-week summer course will be held from 15 July to 26 July 2020 in Ulaanbaatar, Mongolia.
With a goal to support foreign researchers, IAMS provides a favorable opportunity to earn knowledge and ability of Mongolian folklore, literature, culture, and tradition.
The objectives are to promote Mongolian studies around the world, strengthen Mongolian scholars' cooperation, and provide favorable opportunities to develop Mongolian studies as well as promote Mongolian language and cultural heritage.
The program includes classroom training and practical training. The classroom training will include lectures on Mongolian literature, folklore, traditions, and culture as well as training on tangible and intangible cultural heritage. For practical training, participants will increase their Mongolian conversation skills and experience fieldwork on nomadic living, ger building, milking herds to produce dairy products, and other activities.
Applicants must be under 45 years old and currently enrolled in a university program: doctoral, and post-doctoral research in the humanities. The tuition is US$800, which will cover accommodation, food, local transportation, training expenses, and health and security insurance. Detailed information about the application process and requirements are available http://inll.ac.mn.
Notes
1. ⇑ The Institute of Language and Literature at the Mongolian Academy of Sciences manages academic research on philology, literature, and folklore. Established in 1921 as the Institute of sutra and Script, the institute has gone through a number a name changes until 1961, when its current name was adopted. A core mission of the institute is to promote collaboration of national philology and modernity and to promote interdisciplinary research.