CRIHAP holds Capacity Building Workshop on ICH in Mongolia
Source: CRIHAP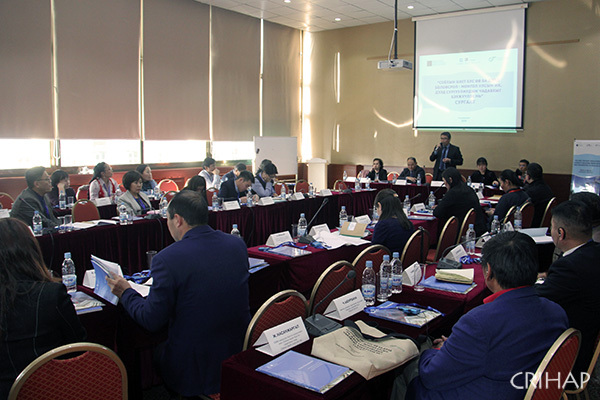 The Capacity Building Workshop on ICH was held in Mongolia from Nov 28 to 30, 2019.
CRIHAP, together with the Mongolian Council for Cultural Heritage Networking and Communication and the Mongolian National Center for Cultural Heritage, organized the Capacity Building Workshop on ICH in Mongolia from Nov 28 to 30, 2019. The workshop was strongly supported by the UNESCO Beijing Office.
Thirty-two lecturers, professors and project leaders from 11 universities in Mongolia participated as trainees in the three-day workshop. And 13 local experts from the Mongolian National Center for Cultural Heritage participated in the training. Ms. Suzanne Ogge and Ms. Saruul Arslan, UNESCO Intangible Culture Heritage facilitators, were invited to give lectures.
Centering on the theme of intangible cultural heritage and higher education, the trainees learned more about the basic concepts of the Convention for the Safeguarding of the Intangible Cultural Heritage 2003, and they exchanged ideas with each other about the inventorying of intangible cultural heritage, intangible cultural heritage and sustainable development and other topics during the workshop. Through real cases of intangible cultural heritage in Mongolia and their combination with higher education, the trainees analyzed and discussed the establishment of courses related to intangible cultural heritage.
At the workshop trainees were guided step-by-step to gain more knowledge through lectures, group discussion and case analysis. To make the training more targeted and to promote the trainees' understanding of the relevant knowledge of the Convention, several projects included in the UNESCO Representative List of the Intangible Cultural Heritage of Humanity were selected as examples in this workshop, such as the training plan for the successors of a puppet show in China's Fujian province, to help trainees understand relevant knowledge more intuitively.
In the group discussion, each group selected one intangible cultural heritage, and made an in-depth analysis of what courses and projects about it may be offered in colleges and universities. The trainees also discussed the relevant issues, and finally made a proposal on the curriculum of ICH in colleges and universities.
It was the first time for people working in Mongolian universities to participate in training under the framework of the Convention. It plays a positive role in improving the overall capacity of intangible cultural heritage safeguarding in Mongolia and promoting Mongolian universities to offer intangible cultural heritage courses. The Mongolian representatives said that two workshops organized by CRIHAP in Mongolia were very effective and put forward their need to continue to receive training workshops in the future.
As of this one, CRIHAP has held 46 training workshops on intangible cultural heritage capacity building for the Asia-Pacific region, with 1,493 direct beneficiaries.