CRIHAP attended the Seventh Coordination Meeting of UNESCO Category 2 Centres in the Field of ICH in Algeria
Source: CRIHAP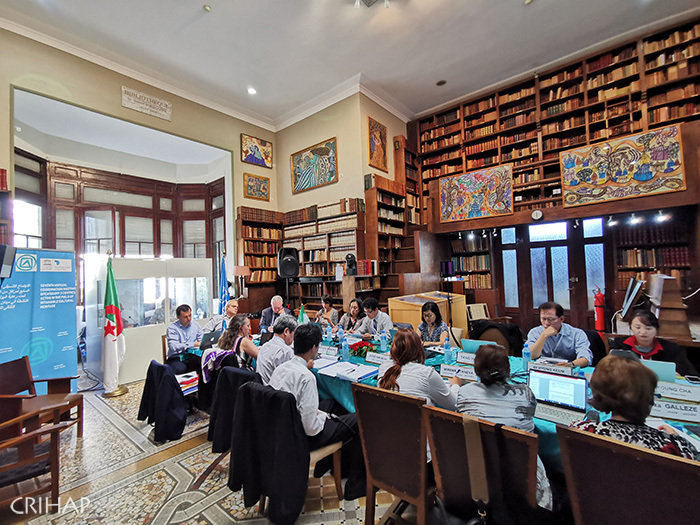 Delegation of CRIHAP attends the Seventh Coordination Meeting of UNESCO Category 2 Centres in the Field of ICH in Algiers.
From September 2 to 3, delegation of CRIHAP attended the Seventh Coordination Meeting of UNESCO Category 2 Centres in the Field of ICH, held in Algiers, capital of Algeria.
The meeting was organized by UNESCO and hosted by the Regional Centre for the Safeguarding of Intangible Cultural Heritage in Africa (CRESPIAF).
Tim Curtis (UNESCO Intangible Heritage Section Chief), Himalchuli Gurung(Programme Specialist for Culture of the UNESCO Office in Beijing) and 18 representatives from China, Japan, Republic of Korea, Peru, Bulgaria, Iran and Algeria seven category 2 centers attended the meeting.
At the meeting, officials from UNESCO Headquarters explained the measures and process requirements, which were under development, for the reform of the management mechanism of the category 2 centres. They also introduced the two priority funding projects –capacity-building projects and intangible cultural heritage and education, and informed the participants about new trends and concerns of the Headquarters for the safeguarding of intangible cultural heritage.
Each category 2 centre reported its latest work and future work focus at the meeting. Meanwhile, the centres also discussed the difficulties and challenges encountered in the implementation of the 2003 Convention, potential areas of cooperation and future mechanisms of coordination.
During the meeting, Liang Bin, Director-General of CRIHAP, focusing on CRIHAP's work in terms of capacity building strategy, comprehensively introduced the work of the centre in combination with examples of training workshops. In addition, he shared with the Headquarters and other category 2 centres CRIHAP's medium-and long-term plans and strategic conceptions for future work in the Asia-Pacific region, and expressed his hope to further enhance communication with Headquarters, and strengthen cooperation with other category 2 centres to better fulfill the centres'responsibilities.