UNESCO Workshop on ICH inventorying held in Bangladesh
Source: CRIHAP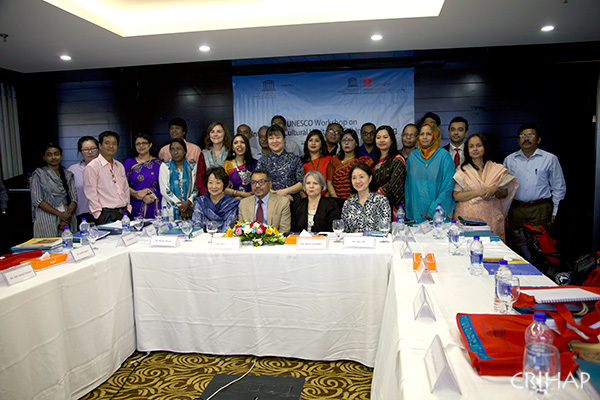 Participants take a group photo at the opening ceremony of the workshop.
The Workshop on Intangible Cultural Heritage Inventorying, jointly organized by CRIHAP and the UNESCO Dhaka Office, was held in Dhaka, the capital of Bangladesh, from Sept 22 to 25, 2019.
Ms. Ge Yuqing, Director of the Training Division of CRIHAP, Ms. Beatrice, representative of UNESCO's Dhaka Office, Ms. Sun Yan, Cultural Counselor of the Embassy of the People's Republic of China in Bangladesh and Mr. Fahimul Islam, Joint Secretary of the Ministry of Cultural Affairs of the People's Republic of Bangladesh, attended the training workshop's opening ceremony and delivered speeches. Twenty-five trainees from the cultural department of the Bangladeshi government, research institutions and universities of the country participated in the training, 16 of whom participated in the first training held by CRIHAP in Bangladesh last year.
This training was centered on ICH inventorying. It is the second capacity-building training workshop that CRIHAP conducted for Bangladesh after the 2018 Workshop on ICH safeguarding in Bangladesh. It aims to help improve the country's ICH safeguarding ability and strengthen its capability of implementation of the 2003 Convention at the national-level.