Fifth Meeting of CRIHAP's Advisory Committee held in Beijing
Source: CRIHAP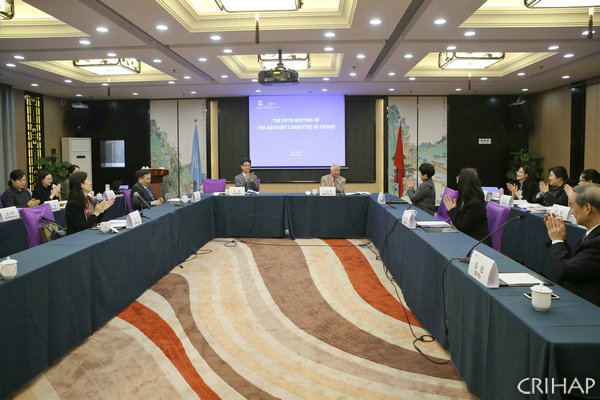 The meeting site of the fifth Session of the Advisory Committee of CRIHAP
The Fifth Meeting of the Advisory Committee of CRIHAP was held in Beijing on Dec 18, 2018. It was chaired by Mr. Wang Xuexian, Chairperson of the Advisory Committee, first ambassador of Chinese Embassy in the Republic of South Africa, and former Deputy Permanent Representative of the People's Republic of China to the United Nations.
The CRIHAP Secretariat briefed the Advisory Committee on CRIHAP's work report and financial statement for FY2017 and FY2018, as well as the Three-year Development Plan for 2019-2021.
After hearing the work report, committee members and delegates agreed that the work carried out by CRIHAP in 2017 and 2018 was commendable, and they expressed their expectation to the future work mapped out in the Three-year Development Plan for 2019-2021. They also congratulated the centre on its successful renewal of the agreement with the UNESCO.
Mr. Wang Xuexian said that since its establishment, CRIHAP has done much work and achieved remarkable results, which have been fully affirmed by UNESCO, the Chinese government and the general public. He was happy to see that CRIHAP has grown rapidly, and its work has been constantly innovative and has expanded to a deeper and broader extent. He called on the government to strengthen its support for the CRIHAP in terms of policy, personnel and administration, so as to promote the centre's development in accordance with the standards of international organizations and enhance its level of internationalization.