UNESCO Assistant Director-General for Culture Ramirez visits CRIHAP
Source: CRIHAP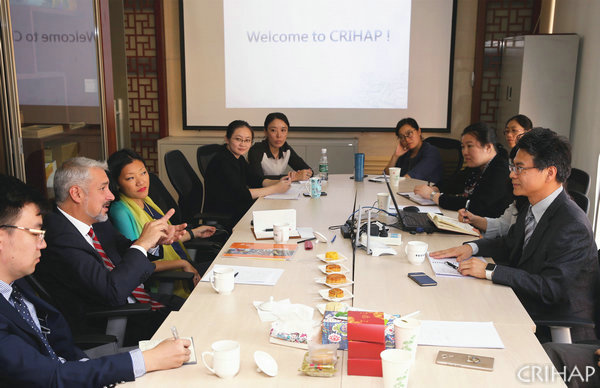 Ernesto Ottone Ramirez engages in an informal discussion with the CRIHAP staff.
Mr. Ernesto Ottone Ramirez, UNESCO Assistant Director-General for Culture, visited CRIHAP in Beijing and listened to the CRIHAP work report on Sept 25. He said he highly appreciated the centre's close coordination with the strategic deployment of UNESCO and the achievements of its active capacity-building efforts in the Asia-Pacific region in recent years.
Mr. Liang Bin, Director-General of CRIHAP, introduced the centre's future ideas, including further strengthening the communication of knowledge, integrating intangible cultural heritage with other cultural fields, and especially exploring trainings themed on Safeguarding ICH in post-disaster reconstruction.
Ramirez expressed his total agreement with all of these goals. He said that strengthening communication is conducive to people's understanding of ICH and the 2003 Convention.
He hoped that UNESCO and CRIHAP will become bridges between knowledge and the whole communities. He said that compared with material cultural heritage, global capacity-building for safeguarding ICH needs to be strengthened, which will be a major goal of the UNESCO headquarters. He expected the centre to continue to play a good role.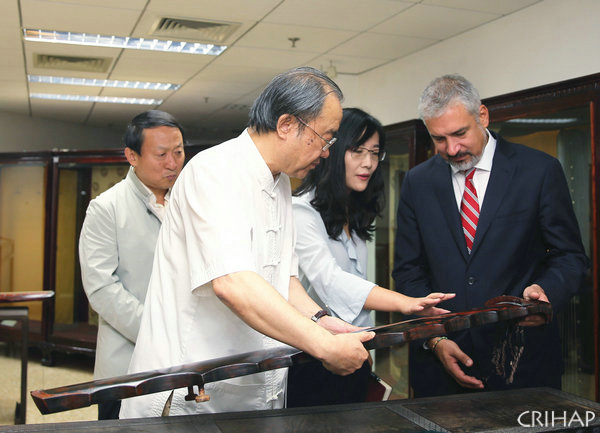 Ernesto Ottone Ramirez visits the guqin exhibition at the Chinese National Academy of Arts.
He also said that safeguarding ICH should be combined with creative economy. Attention should be paid to the transmission of ICH among young people, so that ICH can be inherited in a new form.
Ramirez praised the close cooperation between CRIHAP and UNESCO headquarters and relevant regional offices, and invited the centre's staff to strengthen exchanges with headquarters and regional offices so that they can understand the overall operational mechanism and goals of UNESCO.
"Thank for this wonderful meeting and your valuable work in the field of Living Heritage for the region and for the world. Congratulations," Ramirez said, praising CRIHAP's work in a written message.
Ramirez and his delegation also visited the exhibition on the guqin art, at the Chinese National Academy of Arts, and highly praised the work of ICH safeguarding in China.