Mongolia ushers in first customized capacity building workshop
Source: CRIHAP

The opening ceremony of the Capacity Building Workshop: on the Role of Media for Implementation of the UNESCO 2003 Convection for the Safeguarding of Intangible Cultural Heritage was held in Darkhan-Uul province of Mongolia on Sept 11, 2017.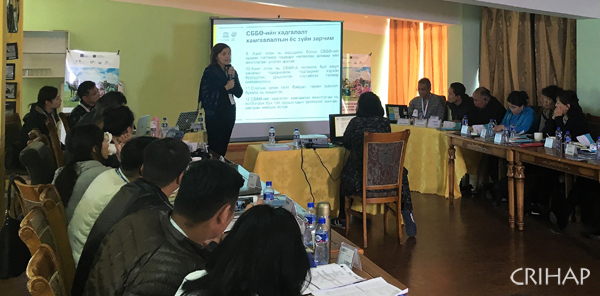 UNESCO-accredited facilitator Ms. Alexandra Denes gives training courses to the trainees.


Badam Altansukh, executive director of CCHCN, first expressed gratitude to CRIHAP for organizing the workshop. He expected that more professional training would be carried out in Mongolia through the joint effort of CRIHAP and ICH safeguarding organizations in Mongolia.
Director-General of the CRIHAP Liang Bin pointed out at the opening ceremony that media played an important role in cultural development. He hoped that trainees could fully leverage the role of media to promote public ICH safeguarding according to the spirits of the 2003 Convention.
Sukhbaatar Uyanga, secretary general of the Mongolian National Commission for UNESCO, thanked CRIHAP, a category two center specializing in capacity-building, for its role in putting on the workshop and exploring new training modes. She hoped trainees could share what they had learned with colleagues and CRIHAP could offer more training and support to Mongolia.
UNESCO-accredited facilitators Mr. Rahul Goswami and Ms. Alexandra Denes introduced basic concepts of the 2003 Convention, basic knowledge about ICH safeguarding and its relationship with sustainable development along with ethical principles and responsibilities. In addition, trainees were grouped to practice field survey and interview ICH practitioners. CRIHAP also invited Mr. Xue Shuai from China Culture Daily to share his experience and have discussions on reporting ICH safeguarding with Mongolia's media representatives.