Sub-regional training workshop for central Asia facilitators held in Kyrgyzstan
Source: CRIHAP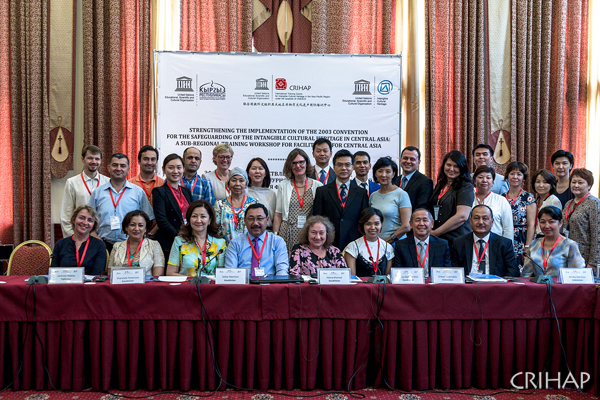 Participants take a photo at the opening ceremony of the workshop.


During the workshop, CRIHAP's Director-General Liang Bin had a meeting with Mr Azamat Zhamankulov, Deputy Minister of the Ministry of Culture, Information and Tourism of the Kyrgyz Republic. Zhamankulov praised CRIHAP for organizing ICH training in Kyrgyzstan and hoped to gain further support from CRIHAP on ICH safeguarding. On behalf of CRIHAP, Liang Bin thanked Zhamankulov for the support from Kyrgyzstan on organizing this workshop. He provided some information about CRIHAP and its major activities in the Asia-Pacific region and promised to carry out more capacity-building training based on the Convention for Kyrgyzstan and other countries in central Asia.
It is the second time that CRIHAP worked hand-in-hand with UNESCO HQs to hold a training of trainers workshop. The workshop was also the first CRIHAP training activity in central Asia, marking a successful beginning for future training sessions in the region.
(Original story by Li Tong; edited by Shen Ce)