CRIHAP's evaluation of the Three-Year Capacity Building Training Programme for Cambodia starts
Source: CRIHAP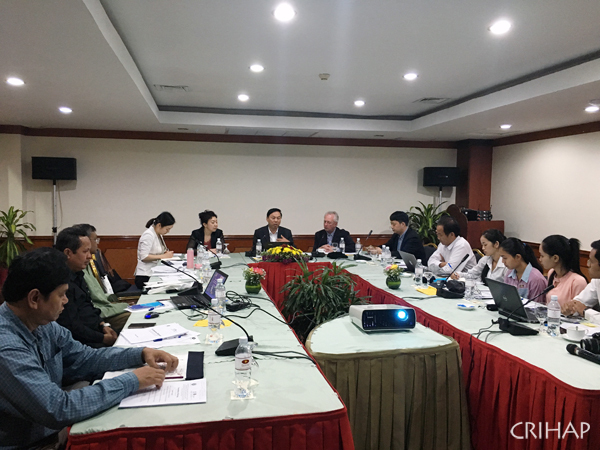 The mid-term meeting on the evaluation was held in Phnom Penh on March 14, 2017.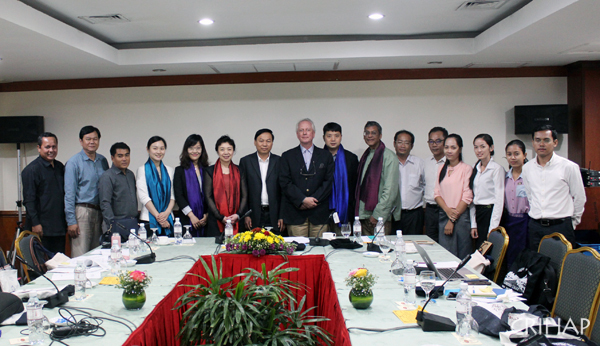 Participants at the mid-term meeting discussed the evaluation, held in Phnom Penh on March 14, 2017.
The International Training Centre for Intangible Cultural Heritage in the Asia-Pacific Region under the auspices of UNESCO, otherwise known as CRIHAP, has started a periodical evaluation on the Three Year (2014-2016) Capacity Building Training Programme in Cambodia. The exercise – a joint analysis between the Ministry of Culture and Fine Arts of Cambodia and the UNESCO office in Phnom Penh – is aimed to test the outcomes of past workshops, providing guidance for future training. UNESCO facilitator Rahul Goswami was invited as the chief expert for the evaluation assignment.
The CRIHAP delegation was led by the Chinese National Academy of Arts vice president Liu Hongchang, who visited Cambodia to help carry out the joint investigation from March 14-16, 2017. The delegation attended a mid-term meeting for the evaluation together with relevant cooperative partners, held in Phnom Penh, on March 14, and then conducted a field study, in Siem Reap, from March 15-16.
The Intangible Cultural Heritage Department of the Ministry of Culture and Fine Arts' director general, Hab Touch, was joined by representatives of the UNESCO Office in Phnom Penh – they were also joined by CRIHAP participants. Issues on the evaluation surfaced at the meeting, which included patterns and content of the evaluation report, and research methods and scope. Consensus was eventually reached among relevant parties.
Throughout the Three Year Capacity Building Training Programme, from 2014 to 2016, three capacity building training workshops for Cambodia were organized by CRIHAP. The training sessions were under the framework of the Convention, and had 112 beneficiary trainees attend. The content of the workshops included "Community-based Documentation and Inventorying of Intangible Cultural Heritage", "Implementation", and "The Establishment of ICH Safeguarding Plan".
(Original story and photos provided by Tang Haijiao; edited by Shen Ce)