Envisioning the future of the global capacity-building strategy and its facilitators' network
Source: UNESCO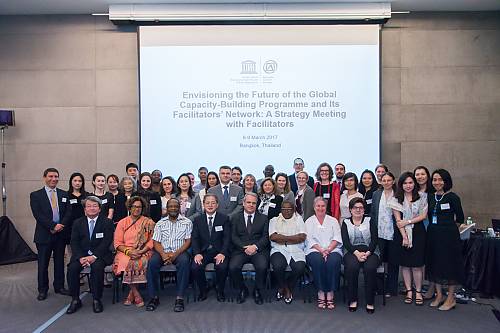 What is the strategy for the future of the capacity-building programme and its facilitators' network? What are the new demands and how can we address them? In what ways has the role of facilitators changed since the early days of the programme and what are the implications for the evolving network?
These are some of the questions that will frame discussions during the strategy workshop with facilitators to be held in Bangkok, Thailand, from 6-9 March 2017.
Organised in close collaboration with the UNESCO Office in Bangkok, the meeting will involve facilitators and Field Office colleagues from all regions in strategic thinking about the future of the capacity-building programme and its network. More specifically, it intends to consolidate facilitators' perspectives on the relevance of the capacity-building programme, assess the evolution, effects and potential of the global facilitators' network, and develop ideas and recommendations for the future development of the global capacity-building strategy.
As UNESCO develops its next four-year programme, the meeting presents an important opportunity to reflect on key achievements, evolving challenges and future ways forward for the programme and its network. The occasion will also allow for exchanges on the latest developments in the life of the Convention, including topics on sustainable development, periodic reporting and improved accessibility to the Intangible Cultural Heritage Fund. Participants will also provide feedback on new training materials on International Assistance.
The workshop will bring together 15 expert facilitators, seven UNESCO programme specialists from Field Offices and five UNESCO colleagues from headquarters who have been closely involved in implementing the global capacity-building strategy, notably the Secretary of the Convention. In addition, representatives from six Category 2 centres under the auspices of UNESCO will attend the meeting as observers.