Community-based Inventorying of Intangible Cultural Heritage gears up in the Democratic People's Republic of Korea
Source: UNESCO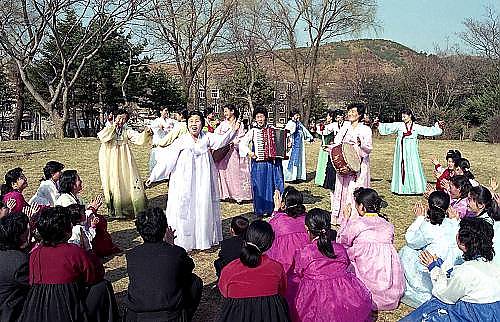 Arirang folk song © 2013 by Pyongyang Video Company
Pyongyang is all set to host a four-day training workshop on Community-based Inventorying of Intangible Cultural Heritage from 29 August to 1 September 2016. This capacity-building workshop is the outcome of joint efforts of the National Authority for the Protection of Cultural Heritage, the National Commission of the Democratic People's Republic of Korea for UNESCO, and the UNESCO Beijing Office with the financial contribution from the International Training Centre for Intangible Heritage in the Asia-Pacific Region (CRIHAP) category 2 centre.
The UNESCO Convention for the Safeguarding of the Intangible Cultural Heritage was ratified by the Democratic People's Republic of Korea in 2008. To support the endeavor in safeguarding its rich intangible cultural heritage, UNESCO Beijing Office has been providing assistance in organizing a series of capacity-building workshops since 2010 including the National Safeguarding Awareness-Raising Workshop (2011) and Training Workshop on the Implementation of the 2003 Convention (2013).
With the spirit of the Convention in mind, this upcoming workshop focuses on community-based inventorying, with a total of 25 participants comprising government officials, cultural officers, academics and ICH practitioners. Utilizing newly developed training modules on ICH Community-based Inventorying, UNESCO accredited facilitators will give theoretical sessions and present a step-by-step guide for developing an inventorying framework. This workshop is being organized within the context of UNESCO's global capacity-building strategy for the safeguarding of intangible cultural heritage.