Workshop on the establishment of ICH safeguarding plan held in Cambodia
Source: CRIHAP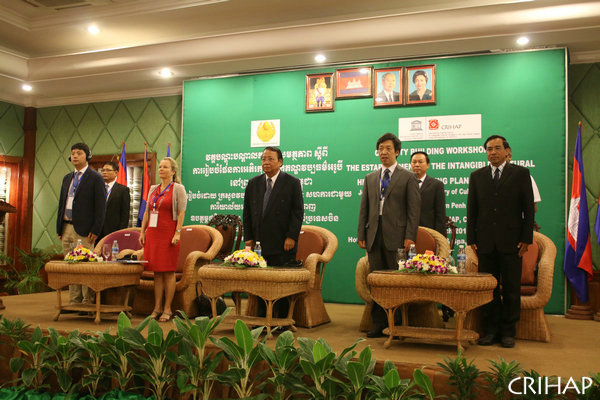 The opening session of the training in Siem Reap in Cambodia, March 7, 2016.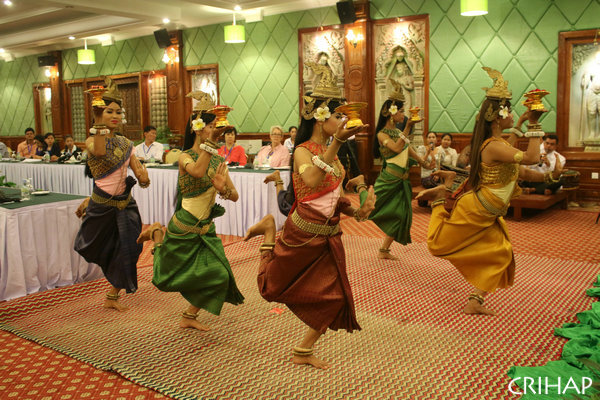 A performance of traditional Cambodian dance at the opening session
of the training in Siem Reap in Cambodia, March 7, 2016.
The Workshop on the Establishment of ICH Safeguarding Plan was co-organized by International Training Centre for Intangible Cultural Heritage in the Asia-Pacific Region under the auspices of UNESCO (CRIHAP) and the Ministry of Culture and Fine Arts (MCFA) of Cambodia from Mar 7 to 13 in Siem Reap, Cambodia, with strong supports from UNESCO Phnom Penh Office. Over 40 representatives including national and provincial cultural officials from Cambodia, representatives from NGOs and practitioners in the field of Intangible Cultural Heritage (ICH) participated in the workshop.
Mr. Samraing Kamsan, Secretary of State of the MCFA, Mr. LI Shufeng, Vice President of Chinese National Academy of Arts and Ms. Anne Lemaistre, UNESCO Representative in Cambodia attended the opening session of the workshop. Samraing pointed out that attributing to the joint efforts of all concerned parties, great progress has been made in safeguarding the ICH in Cambodia over the past years. While, he stressed, the ICH safeguarding is a very complex work which requires continuous long-term efforts. He expected the participants to apply what they learnt during the workshop to promote the ICH safeguarding, and to improve their concerning capability. He also expressed the hope for closer cooperation with CRIHAP and UNESCO Phnom Penh Office. Anne Lemaistre highly appraised the 3 consecutive capacity building workshops held for Cambodia which are sponsored by CRIHAP. She regarded the implementation of the 3 consecutive year training program for Cambodia as a creative training pattern as well as a landmark for CRIHAP.