National Art Museum showing 400 puppets in new exhibition
Source: chinadaily.com.cn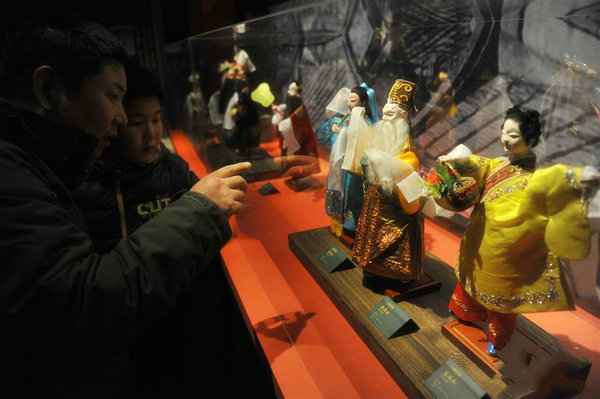 Two visitors view the puppets donated by Xu Zhuchu at the National Art
Museum of China in Beijing on Jan 13. [Photo/Xinhua]

An exhibition featuring 400 puppets held its opening day at the National Art Museum of China in Beijing on Jan 13. The puppets are all from the Xu Zhuchu collection. Xu donated them to the National Art Museum of China, which also displays Xu's family stage for puppet shows.
Xu is a well-known puppet sculptor from Zhangzhou in Fujian province. He is a representative transmitter of Fujian puppet sculpturing which belongs to the national intangible cultural heritage protection programs.
The Zhangzhou puppet culture is a combination of Central China's culture and the culture of southern region of Fujian province. Puppet shows had become very popular in the southern part of Fujian in the Song Dynasty (960-1279).