Cultural exchange activity of Fujian puppet show held in Indonesia
Source: CRIHAP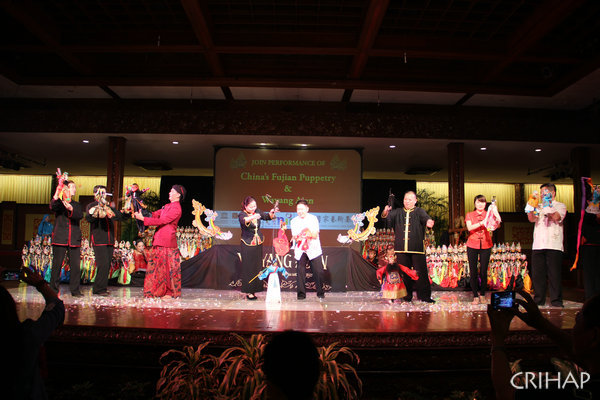 The performance of Wayang Ajen Puppetry and Chinese puppeteers on May 8. [Photo/ CRIHAP]
The Chinese puppeteers and children audiences. [Photo/ CRIHAP]
A Cultural exchange activity of puppet show from China's Fujian province was successfully held by CRIHAP in Djakarta and Bandung of Indonesia from May 7 to 14, 2015.
The activity was sponsored by the China National Arts Fund, co-hosted by the International Training Centre for Intangible Cultural Heritage in the Asia-Pacific Region under the auspices of UNESCO (CRIHAP), Fujian Provincial Department of Culture of China, and co-organized by Taman Mini Indonesia Indah, Wayang Ajen Puppetry, Fujian Provincial Intangible Cultural Heritage Protection Centre of China.
The Cultural Counselor from the Embassy of China in Indonesia Jin Hongyue, Deputy Director of the China National Arts Fund Administration Zhang Kun, and Deputy Director-General of the CRIHAP Zhang Jing, as well as officials from the Indonesian Ministry of Coordination for Human Development and Culture and Indonesian Ministry of Education and Culture attended the event.
In conjunction with the show, experts in the field of intangible cultural heritage from Fujian province gave a lecture on the training programme of coming generation of Fujian puppetry which was inscribed in the Register of Best Safeguarding Practices of UNESCO.