Discussion on "Spring Festival and Chinese Traditional Culture"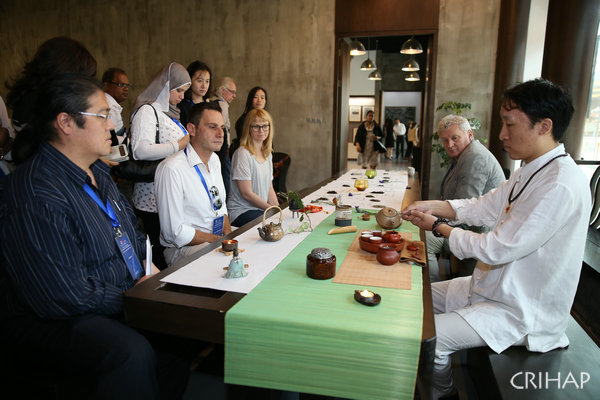 Participants observe tea art show
From October 17th to 23rd 2014, the Workshop on Inheritance and Development of Traditional Festivals in the Modern Age was held in Shanghai and neighboring Suzhou, China. Experts and scholars from Beijing, Shanghai, Suzhou and 25 international participants from 23 countries had an in-depth discussion about the inheritance of traditional festival in the modern age.
The 7-day workshop focused on the Chinese New Year or Spring Festival, the most celebrated traditional festival in China. Chinese experts on Intangible Cultural Heritage and Folklore Liu Kuili, Li xinfen, Wang Juan, Xue Liyong and Cai Liming gave lectures on the value and significance of Spring Festival in modern age and ways people from different parts of China celebrate the festival. Participants from China and other countries shared their experiences on organizing festival celebrations in their home countries through panel discussions and case study.
All participants agreed on the importance of the safeguarding of ICH and especially traditional festivals in every country and expressed their prospects of modernization of traditional festivals so as to carry out each country's cultural vein.
During the workshop, participants explored different ICH items in Shanghai and Suzhou and some performing arts projects of China Shanghai International Arts Festival.