Workshop on Inventorying under the 2003 Convention at the National Level
Source: CRIHAP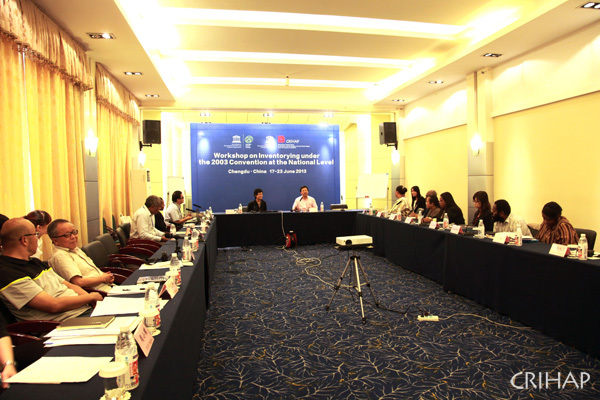 Workshop conference
The Workshop on Inventorying under the 2003 Convention at the National Level was held in Chengdu from June 17-23, which was organized by Intangible Cultural Heritage in the Asia-Pacific region under the auspices of UNESCO, Chengdu Cultural Bureau of Sichuan Province and Chengdu International Cultural Exchange Center.
This workshop was the second international session held in China. It was organized in response to the requirements of UNESCO's intangible cultural heritage capacity-building efforts after the Convention for the Safeguarding of the Intangible Cultural Heritage training session was held in Beijing in December 2012. This year the workshop invited UNESCO-certified specialists in the field of intangible cultural heritage to offer courses to trainees from seven countries and regions, including Tonga, Palau, New Caledonia, Papua New Guinea, Vanuatu and the Hong Kong and Macao Special Administrative Regions. China's intangible cultural heritage experts and scholars also carried out exchanges and interaction on the achievements and experience of the protection of intangible cultural heritage with the trainers and trainees.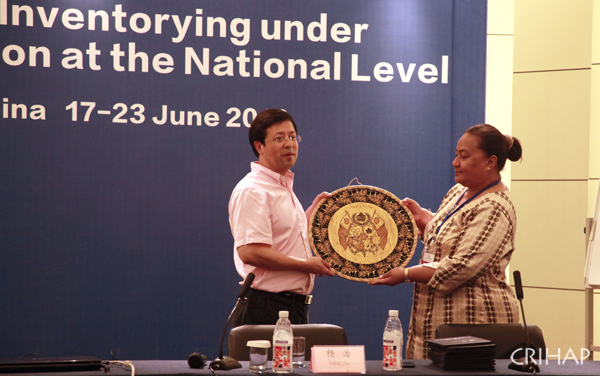 The Tonga representative presents a gift.
2013 marked the 10th anniversary of the Convention for the Safeguarding of the Intangible Cultural Heritage (hereinafter referred to as "2003 Convention"), which now involves 153 countries in the world. By organizing training activities to strengthen the countries' cultural heritage protection work and effectively improving the viability of intangible cultural heritage under the framework of 2003, it has significantly enhanced capabilities to protect cultural heritage.
This training session mainly included lectures, field trips and exchange meetings. The lecturers talked about the basic features of intangible cultural heritage inventory under the main framework of the 2003 Convention, such as ways to take inventory. Taking into account that the training course was held in Chengdu, Sichuan, which had experienced an earthquake on May 12, 2008, the training session also covered the challenges of intangible cultural heritage in the face of natural disasters and how to enhance its viability. The organizers arranged a one-day field trip to visit Taoping Qiang village and the Qiang ethnic group intangible cultural heritage community in Wenchuang to have an in-depth understanding of the reconstruction projects after the earthquake.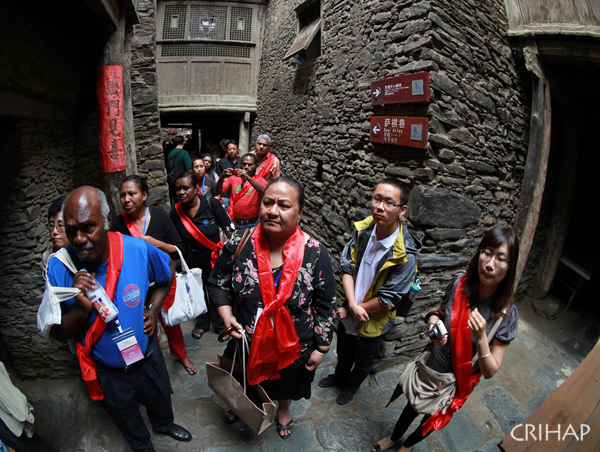 The field trip to Taoping Qiang village
The Asia-Pacific Center also invited all the trainees to participate in the Chengdu International Intangible Cultural Heritage Conference to commemorate the 10th anniversary of the 2003 Convention on June 14-16, 2013.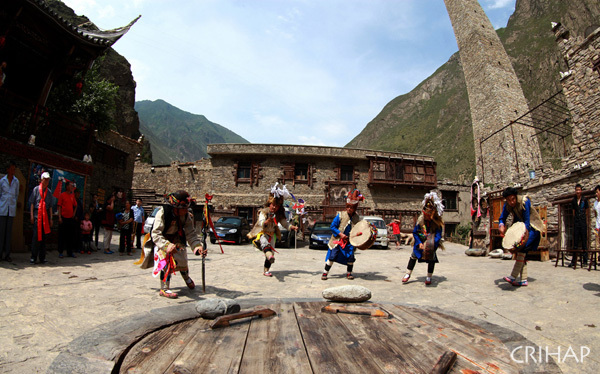 Bodhran dancing performed during a visit in the field.
The Asia-Pacific Center will continue to strengthen cooperation with UNESCO headquarters and regional offices, and enhance the exchanges with UNESCO intangible cultural heritage experts to prepare for the next sessions.