Pudong Storytelling
Source: CRIHAP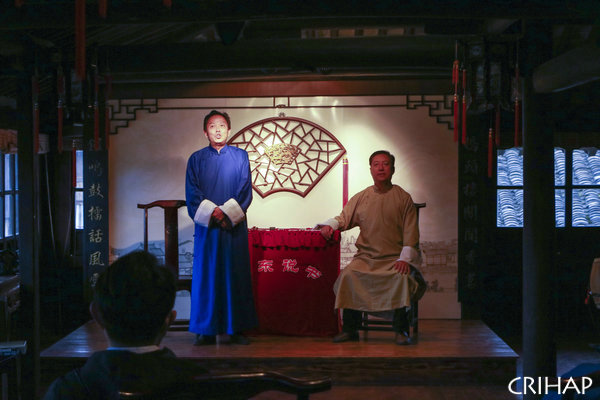 Pudong Storytelling, also known as Shanghai Storytelling or Cymbal Storytelling (for it uses cymbal to make rhythm while telling the story), is an important quyi form in Shanghai, of rich local flavor, next only to Comic Talk. As the stories told in the old times were mostly related to Buddhist cause-effect doctrines, it is also called Cause-Effect Storytelling in certain areas like Chongming or Pinghu and Jiaxing of Zhejiang province.
Pudong storytelling first appeared in the Pudong area including Chuansha, Nanhui and the east part of Fengxian, and is now popular throughout the entire Shanghai suburbs. As it was traditionally regarded as vulgar it was rarely noted in the historical records and few people had ever studied its origin. Though little was known about its origin, a picture on the Pictures Daily at the beginning of the 20th century and a limerick attached to it reveals that it was already popular at that time. The verse reads: "He strikes the cymbal and tells the cause and effect, Talking and acting with gestures. Around him is a big crowd, all smiling How clear his pronunciation in local dialect!"
Pudong storytelling has a strong sense of local atmosphere. Before 1949 most performers were farmers who did farming work in their normal time, and only performed storytelling during the slack seasons to help support their families. Rural fairs and festivals were the busiest days for them when they would perform twice in a day, a matinee and an evening show, to meet the needs of the big audience. The stories were told in Pudong dialect and usually by a single performer who dressed in cheongsam and sat with a cymbal in hand. When the performance began he first struck the cymbal with a chopstick to accompany a four-sentence poem, then he would entertain the audience with an introductory song before he went onto tell the main story. The main story also began with a song, and then followed by long narration interwoven by short songs. The performer was so skillful with the cymbal that he could play with different tunes to please the audience.
Pudong storytelling is the main force of local Pudong culture. Though professional performance is seldom seen nowadays, it remains a favorable art form in its originating place and often appears in the amateur quyi performances in the form of group singing or acting-singing. In Caolu town where two classic plays of Pig-raising Granny and Selling chickens were created and performed in 1975 and 1976, the original form of Pudong Storytelling with one person talking and playing with a cymbal can still be seen.