Qingpu Farming Songs
Source: CRIHAP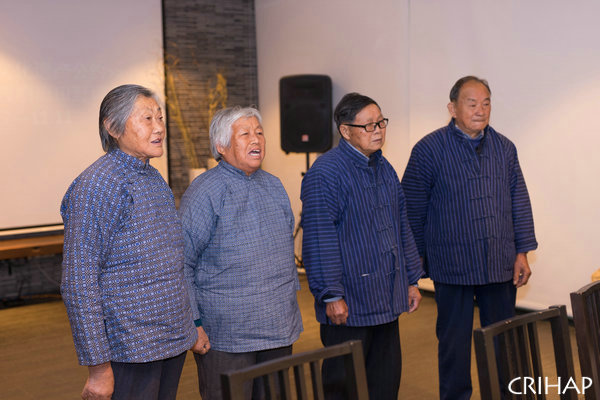 Farming song is popular in Qingpu district, mainly around the towns of Liantang, Zhaoxiang, Jinze, Shangta and Zhujiajiao. It is also sung in other neighboring rice growing areas such as Songjiang, Jinshan and Fengxian districts of Shanghai, Wujiang county of Jiangsu province, and Jashan county of Zhejiang province.
Qingpu farming song is a folk song sung by farmers in paddy fields with one person taking lead and others continuing one by one. It has a unique performing form, typically represented by Zhaoxiang and Liantang. The Zhaoxiang farming song, called yao-mai song, is composed of several parts such as touge (starting song), qianmai (first continuing solo), qianliao (first lingering sounds), fachangshen (a longer solo), ganlaoya (chorus), houmai (second continuing solo), houliao (second lingering sounds) and xiesheng (last chorus). The Liantang farming song, called rice seedling song, consists of three parts of touge (leading solo), maige (male chorus) and liaoge (female chorus), which can be performed repeatedly.
With soaring voices, and unbalanced melody, the Qingpu farming song always raises one octave in performance. Besides, as the song is sung with tempo rubato, it usually leaves many prolongedtunes. Although the song is normally monophonically constructed, there would be some repetition between subsequent phrases which the singers would call "overlapping". Due to the repetition of the previous phrase and the latter one, the songs achieve an effect of two-vocal harmony and intervals such as of the same pitch, octave, fourth or fifth. Sometimes, there are also some inharmonious consonance of the second or the seventh key, thus making a special polyphonic music.
The words of Shanghai farming songs are very colorful and they mainly come from the rich, real life of the local people. Their themes concern with labor, life, thonghts and love. Take the theme of love for example, there are songs like Expecting of my love day and night, I will marry you even you are poor in Qingpu, the long, narrative Song of the Poplar Village in Fengxian, and Sister Zhuang, Young Brother Yao, Second Sister Liu in Songjiang. Of them Song of the Poplar Village may be more typical. It consists of 18 chapters with 11 major ones and 7 minor ones, entitling respectively Selling melons, Weaving handkerchief, Washing handkerchief, My love crossing the river, My love getting married, Looking for wife, Carrying the bridal chair, Seeing my love off, Looking for my love, Once more looking for my love, and Picking Mulberry leaves, Picking fresh peaches, Picking egg-plants, Making window lattice, Sesame oil mat, Boy's medicine, Making Huntun Dumplings. The whole poem, 18 chapters plus prelude and postlude, consists of more than 3100 vivid and lively lines.