Boat Racing
Source: CRIHAP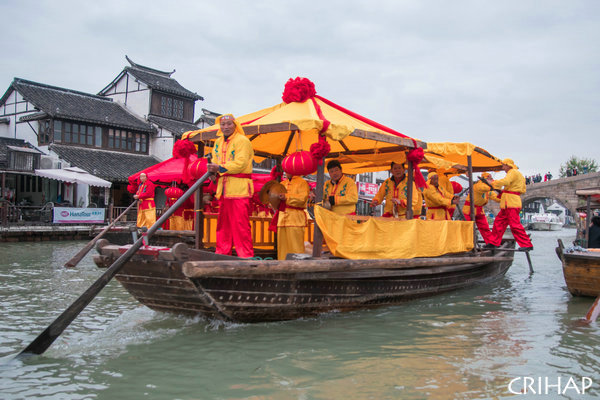 The custom of boat racing in Zhujiajiao area of Qingpu District was formed in the 1650s and has had a history of more than 300 years. At that time people used to go worshiping the Buddha at the Sanguantang Temple on Dianshan Lake during slack season such as on the 27th day of the 7th lunar month, and return from there to Zhujianjiao to join the fair. On their way they had to pass Caogang River. To amuse themselves they would compete with each other. By and by, a custom of boat racing was formed.
For the past 300 years boat racing has been closely related to the local development in economy, culture and humanities. Through long years of evolution, the simple boat structure and its ornament of the earlier times has been improved to suit the speedy rowing, and at the same time the boat ornament and the rowers' costumes become more delicate and gorgeous. These changes reflect and record the process of the flourishing economy and the stable society in Zhujiajiao area.
In competition the racing boats are decorated and three sheltering roofs are constructed. The front roofing is decorated with colorful lanterns; the middle roofing, used to house the gong and drum players, is decorated with a pearled Lions scrambling for a heavenly ball; and the back roofing, for sheltering the scull and sail holders, is decorated with colorful flags, painted with Eight immortals crossing the sea, Liu Hai scattering gold coins, etc. Each boat is equipped with two sculls and nine rowers, 5 for the big scull and 4 for the small scull; they work in turn. There are another 4 gong and drum players and an oar puller at the middle roofing. In racing the percussion music Five Dragon-boats or Water gong tune is usually played. It is really an enjoyable scene to hear the drums playing, to watch the boats flying, and to shout among the thousands of viewers on both banks.
Boats are main carriers of social and economic activities as well as important means of transportation in Zhujiajiao. And boat racing reflects the social custom and life style of the Jiangnan watery area. The whole activity is prepared by the local famers themselves. They prepare all necessities for the occasion: boats, costumes, properties, gongs and drums, and whatsoever. By racing they find a lot of fun to amusethemselves. It has now become a large-scale recreational activity frequently found on such important occasions as holiday s and festivals, harvest celebrations, and wedding ceremonies. It is a typical watery area panorama.