China's mesmerizes Cambodia with Fujian puppetry
Source: CRIHAP

Organized by the International Training Centre for Intangible Cultural Heritage in the Asia-Pacific under the auspices of UNESCO (CRIHAP), and co-organized with Fujian Provincial Department of Culture and Chinese Culture House in Phnom Penh, a series of culture exchange activities showcasing China's Fujian puppetry was held in Phnom Penh, Cambodia, from March 11 to 13, 2015.
High-level officials in both countries participated in the cultural exchange at the invitation of the Ministry of Culture and Fine Arts of Cambodia and UNESCO office in Phnom Penh. One of the highlights of the event was a puppet show by eight artists from three troupes in Fujian province.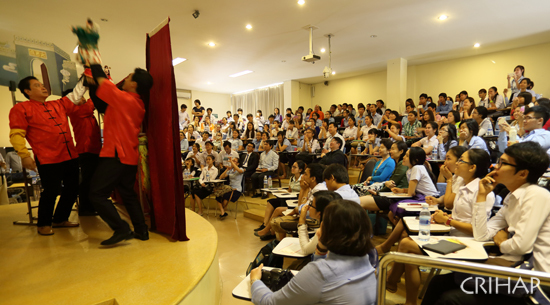 The activity was organized to promote China's Fujian puppetry in the Asia-Pacific funded by the China National Arts Fund in 2014. A variety of events will be carried out this year in Cambodia, Indonesia, Australia and Fujian. For the purpose of integrating arts with the society in a deepening and comprehensive fashion, the program focuses on puppetry in an effort to highlight this art to the public. Students from the Asia Euro University and the Royal University of Phnom Penh had the chance to experience the mesmerizing performance first hand. Chinese officials and experts made a detailed and interesting introduction to the fundamental features of Chinese traditional culture and won wide support from the institutions and faculties.