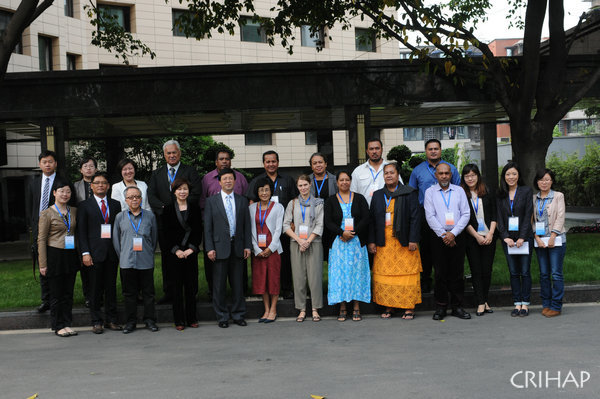 The group photo of all the participants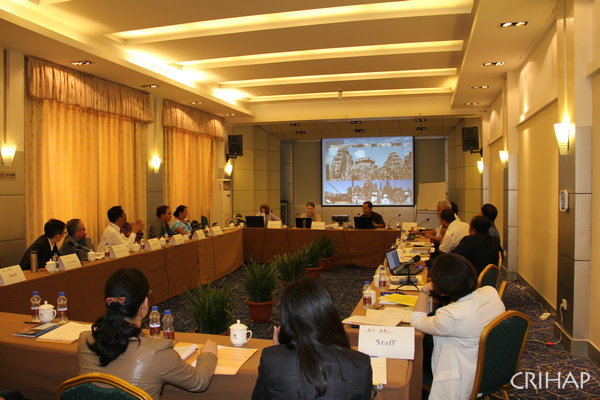 The training classes
A workshop on the ratification and implementation of the Convention for the Safeguarding of Intangible Cultural Heritage was held in Chengdu on April 15-22, 2014. The workshop was hosted by International Training Center for Intangible Cultural Heritage in the Asia-Pacific Region under the auspices of UNESCO (CRIHAP), and undertaken by Chengdu Bureau of Culture and Chengdu Intangible Cultural Heritage Protection Center.
This workshop session, one of the training activities of the convention ratification and implementation under the strategic framework of UNESCO capability building of protecting intangible cultural heritage, lasted for six days. It involved 12 officers in charge of intangible cultural heritage protection from the Cook Islands, Samoa, Tuvalu, Kiribati and Cambodia.
CRIHAP director Yang Zhi, Chengdu Culture Minister Wang Jin, and Akatsuki Takahashi, executive officer in charge of cultural affairs at UNESCO's office in the Pacific region attended the workshop's opening ceremony and delivered speeches. Two trainers, Suzanne Ogge and Anthony Parak, certified by UNESCO, were invited to the workshop as instructors, giving lectures on related knowledge of the ratification and implementation of the Convention, including the sustainable development of intangible cultural heritage. The lectures were designed to provide a platform for more countries in the region to share the international society's experience in the intangible cultural heritage protection under the cooperative mechanism of the Convention.
Zhou Xiaopu, deputy director of the National Intangible Culture Heritage Protection Experts Committee, Lan Jing, deputy director of China Art Science and Technology Institute, and Professor Jiang Yuxiang from Sichuan University were also invited to the workshop to share their experience on safeguarding China's intangible cultural heritage.